Have you ever wondered that banking could be so realistic, where digital realms and financial services coexist seamlessly? Picture a world where innovative banking services and digital assets are seamlessly integrated, inspiring innovation and transforming customer experiences. 
The advent of metaverse digital banking introduces a new era in finance where physical and virtual worlds come together in an impressive combination. With its seamless fusion of decentralized finance and cutting-edge technology, this innovative ecosystem creates opportunities that are unmatched for both institutions and consumers. Decentralized loans, frictionless international transfers, and tokenized assets are all available at your fingertips thanks to metaverse digital banking solutions, transforming the way you manage your financial assets.
This article will provide you with an in-depth understanding of how metaverse and banking combine together to form a completely new and modern space. Without any delays, let's delve into the explanation!
Metaverse: What it is and How it Works
The metaverse is more than just a buzzword; it's a leading-edge technological development that has the potential to revolutionize how we interact with digital content. In layman's terms, the metaverse is a virtual reality environment where users may create and discover a range of digital experiences. It's a place where people can meet, socialize, work, and play, all within a computer-generated environment. However, what sets the metaverse apart from traditional virtual reality is its ability to seamlessly connect different platforms and devices, allowing users to access the metaverse from anywhere, at any time.
The metaverse development utilizes a mix of technologies, like virtual reality, augmented reality, and the Internet of Things. Specialized devices, such as virtual reality headsets or smartphones, allow users to enter the metaverse. Once inside, they can explore different virtual spaces, interact with other users, and engage with digital content in ways that were once impossible. The metaverse offers a vast range of possibilities, such as attending virtual conferences, browsing virtual shopping malls, or even purchasing virtual real estate, for both individuals and businesses.
The metaverse is not just a concept for the distant future; it's already becoming a reality. The tech giants like Facebook, Epic Games, and Microsoft are investing heavily in metaverse technologies, recognizing the immense potential it holds. As the metaverse continues to evolve, it's only a matter of time before it becomes an integral part of our daily lives, including how we manage our finances.
The Evolution of Digital Banking
Banking has transformed significantly since the inception of online banking. Initially, customers could access their accounts and perform basic transactions through banking portals online. With the advancements in technology and the widespread use of smartphones, mobile banking emerged, allowing users to manage their finances remotely. Today, digital banking has become the norm, and customers expect to have easy, secure, and seamless access to their financial services via using crypto banking software.
Benefits of Digital Banking :- 
24/7 access to accounts 
Quick and easy transactions,
Manage finances from anywhere 
Reduced operational costs 
Streamlined processes
Personalized customer experiences 
Additionally, digital banking creates opportunities for innovation and the development of new products and services. As digital banking continues to evolve, it will intersect with the metaverse, creating a powerful synergy that can redefine the banking experience.
How do Digital Banking and Metaverse Work Together?
The combination of the metaverse and digital banking is a perfect match. By blending the interactive and immersive nature of the metaverse with the security and convenience of digital banking, financial institutions can offer a truly transformative banking experience to their clients.
One of the most exciting prospects of metaverse digital banking is the potential for virtual branches. Imagine stepping into a virtual bank where you can interact with virtual tellers, attend financial seminars, and even meet with financial advisors, all from the comfort of your own home. Virtual branches can offer a more personalized and engaging banking experience, eliminating the need for physical branch visits while still retaining a human touch.
Another area where the metaverse development can jump into banking is through the use of personalized avatars. Instead of logging into a traditional banking app or website, users can create their own virtual avatars that represent them in the metaverse. These avatars can not only perform banking transactions but also interact with other users, attend virtual events, and explore virtual spaces. Personalized avatars add a level of immersion and personalization to digital banking solutions, making the experience more enjoyable and memorable.
Cross-Platform Transactions
Seamless cross-platform transactions are another exciting possibility of metaverse digital banking. With the metaverse's ability to connect different devices and platforms, users can make transactions seamlessly across various virtual spaces and even real-world locations. Whether it's purchasing virtual goods in a virtual store or paying for a physical product using digital currency, the metaverse can make transactions faster, more secure, and more convenient.
Enhanced security and privacy
Both security and privacy are crucial aspects to consider when it comes to banking. With the increasing amount of personal data being shared online and the rise of cyber threats, financial institutions must prioritize security and privacy in the metaverse. This can be achieved through advanced encryption technologies, multi-factor authentication, and robust identity verification processes in digital core banking solutions. Additionally, financial institutions must ensure that user data is protected and that users have control over how their data is used within the metaverse.
NFT-Powered Investment Portfolios
With the rising popularity of NFTs (Non-Fungible Tokens), a new and innovative dimension is introduced to the realm of investment portfolios. NFT-powered investment portfolios leverage the uniqueness and authenticity of digital assets, offering investors an exciting opportunity to diversify their holdings and explore the world of rare and exclusive collectibles. Seamlessly blending this in the secure infrastructure of a digital banking platform, users can now own and trade virtual real estate, digital art, and other exclusive NFTs, amplifying their investment potential in this exciting and rapidly evolving landscape. 
What are the benefits of Metaverse Digital Banking?
Metaverse digital banking is a host of new opportunities as it fuels transactions in the virtual world while introducing transactions in the virtual world, attracting employees in new ways including young and fresh talent. It even crafts more interesting and humanistic ways for banks to contact and interact with potential customers online in this digital realm.
1. Transform Experiences :- 
With the blend of metaverse development and digital core banking solutions, modern banks will pave the way to a 3D virtual world while leveraging AR and VR technology which would recreate customer and employee experiences.
Metaverse digital banking will enable its existing customers to check balances, pay bills, make transfers, and transact using AR / VR channels within the virtual world just as in the real world but from the comfort of their homes. 
Creating simulated customer environments can be a great way to boost immersive learning experiences among employees. It allows them to practice in a safe and controlled environment while providing a fun and engaging learning experience.
Onboarding remote workers can be a challenge but using immersive learning experiences can create a sense of connection and community, even when working from different locations.
2. Renewed Customer Engagement :- 
Banks can reinvent their approach to client interaction by providing individualized guidance, providing sympathetic support, and developing trust. Customers have the option of interacting with an avatar remotely or going to a physical location that offers metaverse experiences through metaverse digital banking solutions.
Giving customers who want high-end products a personalized experience with high-touch service. delivering tailored financial advice, including online annual portfolio assessments, financial planning meetings, and product suggestions like mortgages.
Using virtual versions of well-known brand interactions, such as taking money out of an ATM, placing branches, branding, and endorsements, in marketing and brand extension. 
3. Create new products and services :-
With cutting-edge banking goods and services, banks have the chance to capitalize on the booming metaverse economy as a source of expansion.
Providing secure wallet functionality and payment rails for metaverse economies, goods, and services through digital payments.
By securing loans against cryptocurrencies, NFTs, and virtual properties, banks may expand their capacity as custodians of clients' assets into the metaverse.
Creating a virtual twin (Digital twins) for a building or piece of real estate, such as a house or a bank branch. Instead of only looking at 2D images and videos of potential homes, one can picture touring a flawless VR reproduction of a house. The loan might be underwritten by a bank employee using the digital twin.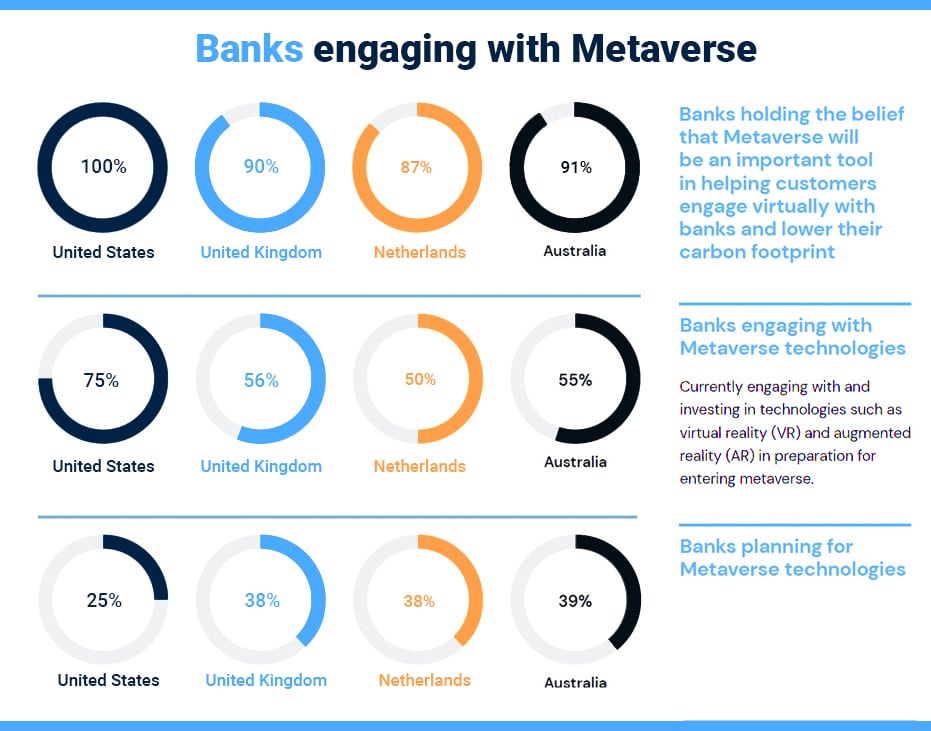 How can Metaverse change digital bank-customer interaction? 
In order to encourage a feeling of community and cooperative involvement among their customers, crypto banks or digital banks can use the metaverse, which connects entities from both the virtual and physical worlds. Remote and virtual consumer interactions could seem more intimate and human by introducing a third dimension and a feeling of presence to digital banking interactions. For instance, a client could find a lifelike avatar of a support agent or adviser to be more interesting than the screen of a chat application or even a video call in a comprehensive metaverse digital banking solution.
Banks shouldn't assume they can just enter the metaverse, determine the rules of participation, and start making money from it in order to increase trust and foster involvement. The goal of forward-thinking banks is to have open communication with their clients so that they may give feedback and are aware of their intentions and goals. Simple value flows between an institution and a customer is ineffective now that the connection with the consumer is more like a partnership. Banks will have to change the way they produce and distribute wealth if they want to build and keep confidence.
An innovative pathway toward a more open, transparent, and inclusive financial ecosystem is shaped by the convergence of finance and technology in this exceptional environment. In an interconnected digital world where creativity has no bounds and traditional banking's limitations vanish, metaverse digital banking solutions allow both individuals and companies to prosper.
How Antier can help?
Metaverse, not a thing of the future anymore, proposes to revolutionize digital banking experiences. It will completely change how banks connect with their clients, the goods and services they provide, how they produce and deliver them, and how they run their businesses. Modern industry leaders must step back and reconsider their strategy and the prospects for their digital future while metaverse digital banking is still in a nascent stage with a bundle of benefits.
If you are a budding financial institution and looking to transcend your digital boundaries, Antier can elevate your probability of success with its strong portfolio in crypto banking and metaverse development. With a team of highly skilled metaverse and finance experts, get your feature-packed metaverse digital banking solution crafted with next-gen features and functionalities. 
What are you waiting for? Schedule a free call with the domain experts now!