P2P Cryptocurrency Exchange –
Following a decentralized approach to interactions
Exploiting the fundamental concept of blockchain technology, which is decentralization, a P2P (peer-to-peer) exchange executes transactions without any
third-party involvement, while connecting the buyers and sellers directly. The platform is underpinned by a smart contract-based Escrow
system to foster trusted transactions.
Realize the power of P2P trading
Tap into the rapidly growing peer-to-peer trading network with our mission-driven approach to develop P2P exchange software.
Our strongly cohesive teams align strategic processes with your goals to deliver an ecosystem of trust. A coherent roadmap combined with our domain expertise and technology-agnostic process navigates the development process and accelerates time-to-market.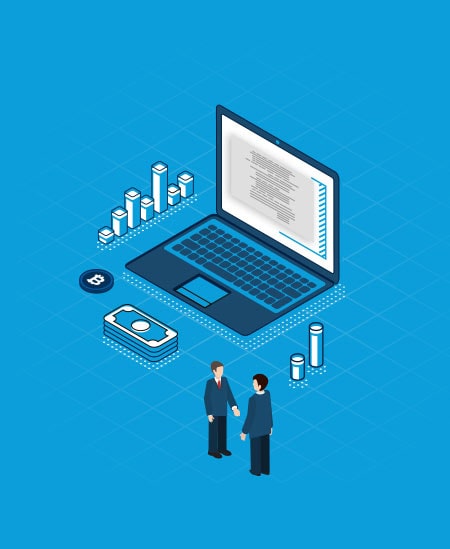 P2P Cryptocurrency Exchange Features
Powerful Matching Engine
The exchange is reinforced with a high-speed engine capable of matching buyers and sellers with minimum latency. It has built-in order types for buy order and sell order, which serve as one of the cornerstones of a trading system.

Multi-layer Security
State-of-the-art security features like SSL implementation and two-factor authentication, such as e-mail authentication and Google authentication add an essential layer of security to our P2P exchange platform.
Instant KYC and AML Verification
Intuitive identity verification system expedites KYC process, while following the right protocol. This builds a base of legitimate and authenticated users (Buyers and Sellers).
Escrow System
A secure and trusted smart contract-based escrow system fuels trading between the platform's users.
Atomic Swap
A peer-to-peer swap drives trusted users' transactions, eliminating the need of a middleman. Atomic swaps pivot around the fact that the transactions either execute completely or terminate, reducing the likelihood of disputes in a scenario of breach of agreement.

Dispute Management
A robust dispute management system empowers the admin with seamless dispute redressal. Complete insights into users' transaction history and bank statements help Admin acumen in dispute management and solidify their decisions.

Preferred trader selection
Buyers have the flexibility to choose their preferred sellers, and vice versa, for a more confident and trusted trading experience.
Admin Panel
A secure admin panel is underpinned by smooth controls for efficient management of critical elements like Escrow system and dispute management.

Multi-language Support
Multi-language support provides global exposure to your P2P exchange. The platform's UI provides the best user experience for left to right and right to left languages.
How P2P Cryptocurrency Exchange works
Users (Buyers and Sellers) register on a P2P exchange platform
Users undergo KYC verification process
Buyer places a buy order
A wallet address is created for the Buyer
The matching engine matches the Buyer with the right Seller
The buyer and seller confirm and agree on the terms of the trade
Smart contract-based Escrow holds Seller's crypto assets to be sold
Buyer makes the payment for crypto assets to be purchased
The seller confirms the payment
Escrow releases crypto assets, transferring the same to Buyer's wallet address
Buyer can transfer the assets to cold wallet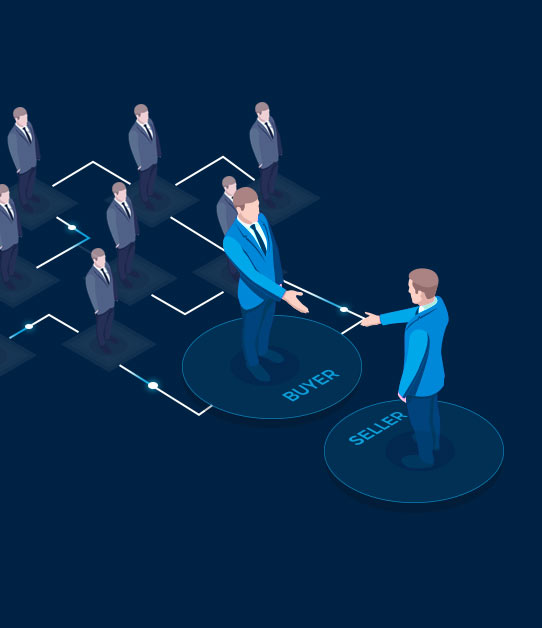 Our P2P Exchange Development Process
Requirement Gathering and Planning

Acquire in-depth understanding of your business goals and devise a strategic plan for peer to peer exchange development to incubate an application that aligns with your objectives.
Build the Solution

Design and architect P2P solution with technology and process considerations on the chosen platform, while addressing crucial aspects like UI/UX security, smart contract and legal policies.
Coin/Token Listing

List required coins or tokens on to the exchange.
Test and improve

Test the exchange for necessary performance and usability and make required improvements accordingly.
Deliver

Implement P2P solution into your IT environment with the help of our dedicated blockchain team. Enable changes and updates.
Benefits of our P2P Exchange Software
Institutional-grade security
Lightening speed transactions

Self-explanatory interface
Scalability
Quick time-to-market
Built by blockchain experts
1How does a P2P exchange work?
A P2P exchange works on the fundamental concept of blockchain, i.e. decentralization. It allows buyers and sellers to trade directly, without any third party involvement.
2Why are businesses keen on building a P2P crypto exchange?
Given that a P2P exchange eliminates third-party involvement, users enjoy better privacy and security. This is the reason why the majority of people prefer trading on a P2P exchange. More number of users opting for P2P trading means more revenue generation opportunities for platform owners.
3How much does it cost to build a P2P crypto exchange?
The development cost depends on the features that you want to integrate into your exchange. However, the development cost and time required to build a white label exchange are comparatively less than that required to develop a custom exchange from scratch.
4What is the future of P2P trading?
P2P exchange platforms are more reliable as they eliminate third-party dependency. While centralized exchanges have to adhere to stringent regulations and have high operational overheads and transaction fees, P2P crypto exchanges take up a lot of slack in the system and forge the path for next wave of adoption in this space.
January 5, 2021
In simple words, a peer-to-peer (P2P) cryptocurrency exchange is a platform where a user can directly exchange cryptocurrency with another user. Unlike the centralized or decentralized exchanges, […]
September 24, 2020
The concept of P2P lending (peer-to-peer lending) is not new. When you give a loan to your friend, it is an example of a P2P financial […]
July 8, 2020
While going with P2P crypto exchange development, you need to primarily focus on providing your users with multiple payment methods to enable them to trade conveniently. […]
Talk To Our Experts
A free consultation is available to discuss your business needs, no obligation, just a friendly chat to work out if we can help.