7+
Years of blockchain experience
200+
Clients across 6 continents
Metaverse Application Development - Create Your Own Immersive Virtual World
The immersive potential of Metaverse can be harnessed for offering life-like experiences to the end users. At Antier, we zealously focus on building highly interactive and visually appealing metaverse applications that fit your custom requirements. We help you to gain a competitive edge in the market by offering our technical expertise in building 3D spaces augmented with NFTs and interactive tools, such as text and audio chats, and garnishing it with Web3 that ensures complete decentralization. However, we work according to your preferences.
We bundle up our 15 years of experience and technical proficiency to design, develop, execute, and expedite your metaverse journey. We are apt in building highly sophisticated and exquisite metaverse applications that are backed by blockchain-oriented attributes, such as, transparency, privacy, security, and scalability. Ours is a leading metaverse app development company that provides befitting solutions for metaverse NFT marketplaces and metaverse game development. Accelerate your metaverse application development process with us.
Metaverse Game Development Company
We create an attractive and immersive gaming realm powered by the metaverse. Our metaverse developers create a 3D simulation of physical reality in which the individuals can become game characters in the form of their digital avatars. They can indulge in such adventurous activities that they might not be able to do practically. Just imagine a world in which gamers can learn, shop, trade, socialize, and get fully entertained. When the game is based on the Play-to-Earn model, it's beyond fun, it's addictive. We specialize in metaverse game development and our focus is to create multiple types of games that infuse adventure & victory, mind-training & learning, and amusement & money-making. Get in touch with a metaverse development company that holds mastery in metaverse game building.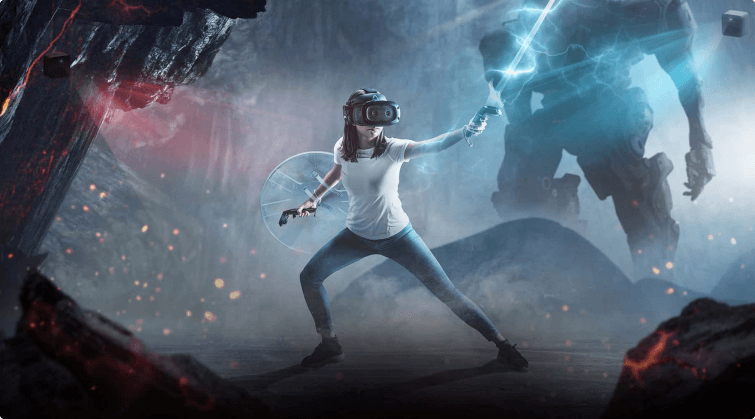 Our Metaverse Development Services
We provide end-to-end solutions to facilitate your entry and participation in the metaverse.
Leverage our services to fuel your metaverse project. Connect with our subject matter experts to get started!
Metaverse Development for Different Industries
The potential for metaverse exists across use cases. We provide the following enterprise-focused solutions to help businesses tap into the metaverse.
Metaverse App Development Business Benefits
Metaverse Development Technology Stack
Technology Stack for Metaverse Development
What makes us the Best Metaverse Development Company
Right people at the right place to deliver the right solutions.







Frequently Asked Questions
1Where can I find a metaverse development company?
Antier Solutions is a metaverse development company and can help you get started with moving to the metaverse.
2How can a metaverse development company help me get started?
A metaverse development company like Antier can help you make the most out of the metaverse technology for building sophistically and visually interactive metaverse applications.
3What is a metaverse application development?
A metaverse app brings augmented reality experiences to life. You can socialize, learn and collaborate on 3D virtual spaces that are created within a metaverse app.
4How can I hire metaverse developers?
Antier solutions houses one of the most experienced metaverse developers who have successfully delivered several metaverse projects. Get in touch with us to work with our team of metaverse developers.
5Is it safe to invest in the metaverse technology?
Yes, this is in fact the best time to invest in the metaverse technology. We provide end-to-end consulting services and technology solutions to help you get started with your metaverse project.
Discuss Your Requirements Today!
Please fill in the details below .