7+
Years of blockchain experience
200+
Clients across 6 continents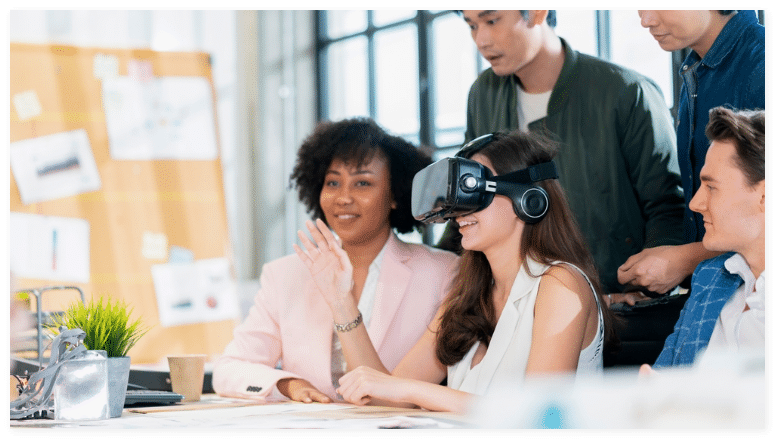 Facilitate and Expedite your Metaverse Development Journey
Metaverse is gaining rapid adoption. According to Gartner, 30% of the organizations in the world will have products and services ready for the metaverse, by 2026. It means that businesses planning to tap into the metaverse should act now to gain an essential competitive edge. Building upon over 15 years of technical prowess and breadth of experience, we bring our metaverse developers and designers together to design, execute, and expedite our clients' metaverse journeys. We build sophistically and visually interactive metaverse applications that feature blockchain-oriented attributes like user sovereignty, 100% transparency, added privacy, and automation. Our experience as one of the leading metaverse development companies can help you build the perfect metaverse apps, 3D virtual spaces, and metaverse NFT marketplaces on decentralized platforms. Accelerate your metaverse application development process with us.
Our Metaverse Development Solutions
We provide end-to-end solutions to facilitate your entry and participation in the metaverse.
Leverage our services to fuel your metaverse project. Connect with our subject matter experts to get started!
Antier's Expertise: Metaverse Development for
Different Industries
The potential for metaverse exists across use cases. We provide the following enterprise-focused solutions to help businesses tap into the metaverse.
Business Benefits of Metaverse App Development
Technology Stack for Metaverse Development
Our Cryptocurrency Wallet Development Process
We follow a four-part innovative process to steer your development journey
What makes us the Best Metaverse Development Company
Right people at the right place to deliver the right solutions.









Frequently Asked Questions
1Where can I find a metaverse development company?
Antier Solutions is a metaverse development company and can help you get started with moving to the metaverse.
2How can a metaverse development company help me get started?
A metaverse development company like Antier can help you make the most out of the metaverse technology for building sophistically and visually interactive metaverse applications.
3What is a metaverse application development?
A metaverse app brings augmented reality experiences to life. You can socialize, learn and collaborate on 3D virtual spaces that are created within a metaverse app.
4How can I hire metaverse developers?
Antier solutions houses one of the most experienced metaverse developers who have successfully delivered several metaverse projects. Get in touch with us to work with our team of metaverse developers.
5Is it safe to invest in the metaverse technology?
Yes, this is in fact the best time to invest in the metaverse technology. We provide end-to-end consulting services and technology solutions to help you get started with your metaverse project.
Enrich User Experience by Launching Your own Metaverse project
Please fill in the details below .