DID YOU KNOW!
According to a report presented by Bankless Times, the global web 3 market was valued at 3.2 billion dollars in 2021 with current market cap sitting at 27.5 billion dollars.
Best Web 3 Consultants at Your Service
There has been a lot of hype around web 3 and many are still wondering what it is all about. To state it in simple terms, web 3 is nothing but the present-day internet integrated with blockchain-based infrastructure, thereby coming with all the benefits of blockchain technology.
Web 3 brings with it a wide range of opportunities for various industries. It is exactly the situation where Antier, one of the top web 3 consulting companies, comes to the rescue of businesses by lending a helping hand to explore the opportunities efficiently and effectively for their benefit.
Web 3 Consulting Services For Your Business's Benefit
Our Web 3 consulting services are focused on extracting the best from emerging technology and implementing the same for the benefit of businesses.
DID YOU KNOW!
It is surprising to know that about 46 percent of finance apps are based on web 3 technology.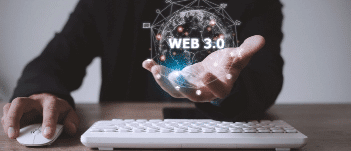 Benefits of Web 3 Consulting
Here is what you gain from our web 3 consulting services.
Our Web 3 Consulting Process
Take a look at our Web 3 consulting and development process for a better understanding.
Our Web 3 Consulting Process
Take a look at our Web 3 consulting and development process for a better understanding.
Why Choose Antier as a Web 3 Consulting Company?
Antier is one of the premium Web 3 consulting companies catering to the different requirements of businesses who are planning to shift to Web 3 by implementing Web 3 technology into their business to explore the opportunities it has on offer.
Frequently Asked Questions
1What is Web 3 Consulting?
Web 3 consulting refers to a professional service offered to different businesses, organizations, and even individuals who are interested in getting complete guidance on implementing as well as integrating web 3 in their operations or wish to migrate from web 2 to web 3. Web 3 consulting and development generally involves analyzing the requirements of the project to come up with a strategic plan for perfect implementation.
2What is the Role of a Web 3 Consultant?
Antier, as one of the top web 3 consulting companies houses a pool of talented web 3 consultants who help identify value-generating opportunities for businesses to create new models for monetization facilitating business growth and development.
3What Transition Will Web 3 Bring Into Industries?
The potential of web 3 in industries can bring about a massive transition by making them trustless and evenly distributed among all users, that too without the involvement of any intermediaries or third parties.
4Why is Web 3 Trending?
Web 3 is trending because of a number of reasons. Some of the major reasons are listed below. Decentralization happens to be the fundamental pillar that does not require any single controlling authority. The growth of decentralized apps and various NFT projects further elevates the demand for web 3. There has been a steady evolution of web 3 projects over the past few years. Web 3 offers an amalgamation of opportunities. The combination of decentralized apps, metaverse, and NFTs has given rise to new opportunities in the market.
5Do You Provide Web 3 Consulting for Different Industries?
Yes, we offer web 3 consulting services for a wide range of industries such as education, retail, healthcare, real estate, travel & tourism, banking & finance, supply chain, and a number of others. Schedule a call with our web 3 consultants to explore various opportunities offered by web 3.
November 30, 2023
Cryptocurrencies have revolutionized the way we conduct transactions and store value. With the rising popularity and profitability of digital currencies, many individuals […]
November 30, 2023
According to a 2023 survey conducted by Coinbase, around 20% of the American population, equivalent to over 50 million individuals, are crypto […]