NFT Gaming Development: Introducing a Groundbreaking Paradigm Shift
Fostering a sense of exclusivity and collectability, we at Antier craft next-gen NFT games that empower players with true ownership and control over their in-game assets, enabling them to buy, sell, and trade unique virtual items with real-world value backed by world-class NFT game development services.
Holding a strong portfolio in crafting engaging yet flawless NFT games, we have catered to the diverse global needs of modern gamers and enterprises. Some unique traits of our NFT game development solutions include:
Metadata Customization
Off-Chain Storage
Cross-Platform Compatibility
Engaging Gameplay Mechanics
True Ownership
NFT Games VS Traditional Games
| TRAITS | NFT GAMES | TRADITIONAL GAMES |
| --- | --- | --- |
| OWNERSHIP | Players own unique, tradable in-game assets | Assets are typically owned by the game publisher |
| VALUE | Assets have real-world value and can be monetized | Assets hold value only within the game |
| SCARCITY | Assets can have provable scarcity and rarity | Limited supply controlled by the game publisher |
| TRANSPARENCY | Transactions and ownership are recorded on the blockchain | In-game economy and transactions are managed by the game publisher |
| COMMUNITY | Players actively shape the in-game marketplace | Marketplace is controlled by the game publisher |
| CREATIVITY | Players can create and sell their own in-game items | Limited ability for players to create and sell content |
| SECURITY | Blockchain technology provides enhanced security | Relies on centralized servers for security |
| MONETIZATION | Players can earn real-world income from their gameplay and assets | Limited opportunities for monetization |
Bringing NFT Game Development Services to Your Fingertips
Leverage the unexcelled experience and expertise of Antier's creative game designers and blockchain specialists to smoothen your NFT gaming development journey. As an award-winning NFT game development company, our cross-functional and certified NFT developers devise a coherent roadmap for developing NFT games that stand out.
Let us frame exclusive gameplay with rare digital assets like characters, tickets, weapons, skins, and some power & privileges. Our NFT game developers excel at creating stunningly attractive UI, and super cool 3D objects, and provide realistic experiences to the game players. Our NFT creators and NFT game development team collaborate together to make sure that they conjointly drag gaming enthusiasts toward your gaming platform.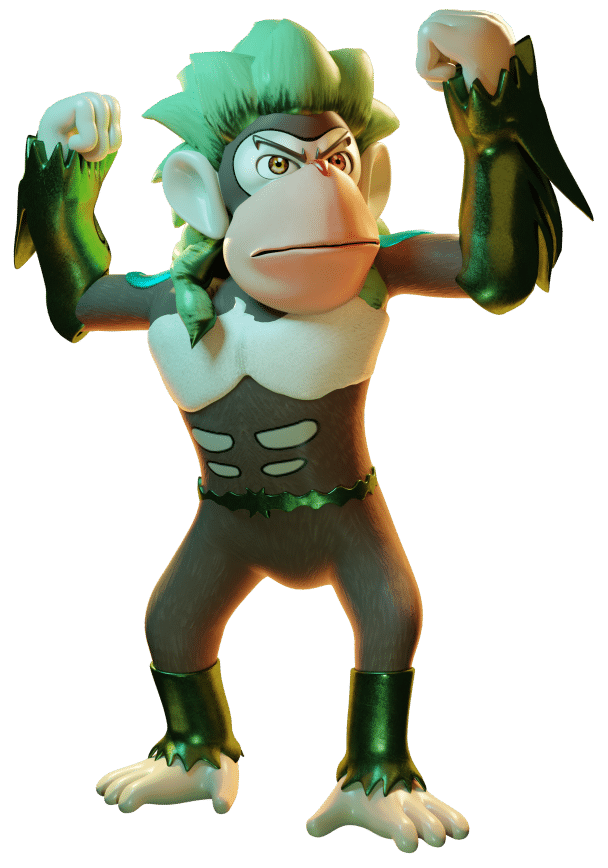 Features of NFT Game Development
Our NFT game development services combine the excitement of gaming with the power of blockchain technology, providing unique and rewarding experiences for players while reshaping the gaming industry with new economic and social possibilities backed by next-gen features.
DID YOU KNOW
With over 2.8 million DAU, Axie Infinity is one of the most popular NFT games.
Develop a similar NFT game with Antier and gain a competitive edge in the NFT space!
Our NFT Gaming Development Services
Tap into the world of NFT game development services and be transported to a realm where limitless game experiences await. Embark on an
extraordinary journey while partnering with the best NFT game development company.
Our NFT Gaming Development Services
Tap into the world of NFT game development services and be transported to a realm where limitless game experiences await. Embark on an
extraordinary journey while partnering with the best NFT game development company.

We are equipped with a team of creative designers and seasoned blockchain engineers who employ the latest tools and techniques to steer and accelerate your NFT game development process
Redefining Gaming with Play-to-Earn NFT Game Development
Antier is a leading development company with expertise in delivering innovative and immersive P2E NFT game development services. We craft engaging gameplay mechanics that provide players with the opportunity to earn rewards and cryptocurrency through gameplay. Leveraging their technical prowess, we integrate NFT assets into the game ecosystem, enabling players to own, trade, and monetize their unique in-game assets securely on the blockchain.
Unleash the Potential of play-to-earn games with our P2E NFT game development company
Financial Inclusion
Ownership and Control
Community Engagement
Play Anytime, Anywhere
NFT Game Clone Development From the Ground Up
Experience the future of gaming with our cutting-edge NFT game clone script! Our clone scripts provide the perfect foundation for creating captivating gaming experiences that will leave players spellbound. With our decentralized gaming platforms, players can finally enjoy true ownership of in-game assets, unlock play-to-earn mechanics, and seamlessly explore interconnected virtual worlds.
By leveraging our NFT game clone scripts, you can fast-track the project's development, saving valuable time and resources, all while customizing the platform to your exact specifications. Our scripts incorporate features like NFT minting, trading, and marketplace functionalities, empowering game creators to cater to the skyrocketing demand for NFT gaming experiences. Brace yourself for a whole new level of innovation as we bring to life exhilarating gameplay mechanics and immersive virtual worlds. Join us and be part of the future of NFT game clone development today!
Top NFT Game Clone Scripts We Leverage
Our NFT Game Development Process
Embrace the future with our agile mastery: streamlined processes for innovative success in the NFT gaming development space.
Technology Stack
We leverage cutting-edge technologies and platforms being practiced in the global market and stay abreast of the latest market trends.
Popular Use Cases of NFT Gaming Development
Accelerate your NFT journey while embracing the true potential of NFT game development services across diverse areas.
Why Choose us as your NFT Game Development Company?
By choosing Antier for NFT game development services, you can get easy access to the team of
subject matter experts that can help you to build an amazing success story.
Frequently Asked Questions
1How much does it cost to develop an NFT game?
The cost of developing an NFT game can vary greatly depending on factors such as game concept and complexity, platform and technology, blockchain integration, backend infrastructure, team composition & expertise, art assets, and desired features.
2How can I buy or sell NFTs in gaming?
To buy or sell NFTs in gaming, you typically need to follow these steps: Set up a digital wallet: Choose a cryptocurrency wallet that supports NFTs and set it up. Acquire cryptocurrency: Purchase the necessary cryptocurrency (usually Ethereum) to buy NFTs. Find a marketplace: Explore NFT marketplaces specific to gaming, such as OpenSea, Rarible, or Axie Marketplace. Browse and choose: Search for the desired NFTs, check their authenticity and rarity, and decide on your purchase. Make the transaction: Use your wallet to bid or buy the NFT, following the instructions on the marketplace. Manage your NFTs: Once the transaction is complete, your NFT will be stored in your wallet. You can choose to hold, trade, or sell it.
3How can a P2E NFT game development company integrate play-to-earn (P2E) mechanics into an NFT game?
P2E NFT game development mechanics begins with designing engaging gameplay, rewarding valuable in-game assets/currencies, connecting the in-game economy to real-world value, implementing blockchain technology for secure ownership/trading of assets, creating a user-friendly marketplace, fostering a supportive community, and iterating based on player feedback.
4How to select the best NFT game development company?
When selecting the best NFT game development company, it is important to consider factors such as their expertise in NFT game development, understanding of blockchain technology, seamless user experience, end-to-end services, integration with existing blockchain networks and marketplaces, and effective communication and project management capabilities. By assessing these aspects, you can choose a company that aligns with your vision and has the necessary skills to create a successful NFT gaming platform.
5How to create an NFT game like Axie Infinity?
To create an NFT game like Axie Infinity, start by developing a concept with engaging gameplay mechanics and objectives. Build smart contracts on a blockchain platform for NFT creation and ownership. Design the game, integrate NFT functionality, establish an in-game economy, and incorporate a marketplace for trading. Test, deploy, and continuously update the game while fostering a supportive community.
6How much time will it take to create an NFT game?
The time it takes to create an NFT game can vary depending on the complexity of the game, the size of the development team, and the availability of resources. Developing a fully functional NFT game typically involves various stages such as concept development, smart contract creation, game design and development, NFT integration, marketplace integration, testing, and deployment. Considering these factors, the development timeline for an NFT game can range from several months to a year or more. It's crucial to plan and allocate sufficient time for each stage while accounting for potential iterations, testing, and fine-tuning to ensure a high-quality and engaging NFT gaming experience.
Blogs at Glance
Want to decode the secrets of blockchain, cryptocurrencies, NFTs, metaverse, and associated technologies? Read our blog to gain insights!
September 29, 2023
With the advent of technology, NFT space is advancing at a rapid rate while introducing new terms every day. One such term […]
September 27, 2023
Non-fungible tokens (NFTs) are digital assets that are unique and cannot be replaced. They are frequently used to signify ownership of digital […]
September 26, 2023
In the world of blockchain technology and non-fungible tokens (NFTs), smart contracts have played a pivotal role in reshaping the landscape of […]