NFT Development: Ensuring Irrefutable Ownership of Digital Assets
Non-fungible tokens store identifying data in their smart contracts that makes them unique. Every NFT represents a particular real-world asset and cannot be directly converted to and from another token. With Antier's end-to-end NFT token development services, individuals and institutions can ensure total ownership of their assets.
NFT Development Solutions: Creating a Paradigm Shift
Non-fungible tokens are unique crypto tokens backed by blockchain technology that can be linked to digital and non-digital assets, serving as a
certification of authenticity. After paving their way into the luxury art space, NFTs are emerging as the next big thing in other industries, such as
sports, game, fashion, and more.
Businesses are leveraging NFT development services to harness the following benefits of NFTs:
Leverage the benefits of NFTs. Partner with our NFT development company to
expedite your development journey.
Create NFT Token with Antier
As avid supporters of a decentralized world, we believe blockchain driven tokenomics holds great potential to resolve key issues of our times. Non-fungible tokens will empower the digital content creators and asset holders to grow in a democratic environment without depending upon hosting agents. Besides NFT token development, we hold expertise in building end-to-end DeFi products for a variety of ecosystems .
With our signature Non-Fungible token development services, businesses can process large volumes of scalable tokens as per the product requirement.
Total transparency and ease in assuring platform liquidity.
Sustain product information structure and deliver high value through a stronger foundation.
A distinctive identification protocol that adds value to smart contract diversification.
Swift and secure verification protocol for tokens thereby assuring quicker launch to market.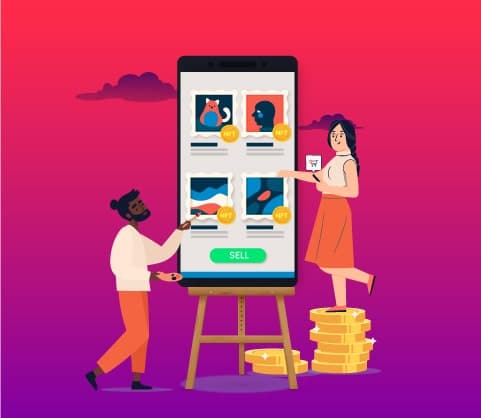 NFT Token Development Standards
Features of our NFT Token Development
Benefits of Non-Fungible Token Development
Benefits for Token Holders
Ability to prove their ownership.
The data is immutable and can't be manipulated.
Opportunity to sell and earn royalties for the original creator.
Earn lasting returns by holding the token for a longer period.
Benefits for Token Creators
Ability to prove their ownership.
Control over scarcity and supply.
Lifetime royalties every time the token is sold.
Ability to trade on any peer-to-peer network.
Antier's NFT Development Services
Given our proven experience in building products over complex algorithms, NFT token development is an integral part of our DeFi COE.
Arts
Music
Real-Estate
Games
NFT backed Loans
Digital Content
Domain Names
Investments & Collaterals
Decentralized Non-Fungible Token Development
Decentralized Non-Fungible Token (DNFT) is built on a DNFT protocol, which is a decentralized cross-chain network that enables the minting, trading, and management of NFT assets across blockchain, such as art, metaverse assets, and more.
At Antier Solutions, we harness the DNFT protocol to build decentralized non-fungible tokens aligned with different business needs. Our blockchain engineers and domain experts work together to offer diligently-crafted decentralized non-fungible token development services to help you accomplish your business goals.
Whether you want to tokenize your artwork, video file, or any other asset, we offer mission-driven solutions to effectively cater to your needs.
Why Choose Us as Your NFT Token Development Company
By partnering with Antier, you can rely on a team of seasoned NFT developers with real-world experience creating success stories.
Technical Prowess
We exclusively work in Blockchain technologies. We do one thing, and we do it well.
Expert Team
We have 300+ experts who help you refine your offering, suggest the best tech approach, and even help set up communities and campaigns.
Rapid Development
We deliver customized products suited to your target audience. A coherent roadmap ensures smooth and accelerated development and deployment.
Complete Support
Our work does not end with the product launch. We provide extensive post-delivery services so that you can focus on your growth.
Meaningful Outcomes
We create a tangible impact. We make sure you see value from your investments.
January 27, 2022
Binance Smart Chain (BSC) is the most popular blockchain network for NFT Marketplace Development, DeFi-based DEX Development, and other uses. BSC's appeal stems from its native […]
January 25, 2022
NFTs (non-fungible tokens) have taken a major position in the crypto world! Many top businesses in the crypto industry have started to enter the NFT business […]
January 24, 2022
According to statistics, the estimated average ownership rate of cryptocurrency was 3.9%, which means that there are more than 300 million people using cryptocurrency around the […]
Talk To Our Experts
A free consultation is available to discuss your business needs, no obligation, just a friendly chat to work out if we can help.