Cryptocurrency Wallet Development: Unlock the Business Value of Blockchain-Powered Wallets
As of December 2021, the global crypto market had 295 million users, and the number is opined to grow to 1 billion by December 2022. Financial institutions and crypto enterprises seek to capitalize on opportunities created by the burgeoning crypto market. Different businesses have had different degrees of success by tapping into the crypto market and launching their crypto wallets.
At Antier Solutions, we offer comprehensive crypto wallet development services to make it easier for businesses to launch their crypto wallets. We leverage our rich experience and deep understanding of the wallet market to build a great white label digital wallet experience for your organization. In addition, we specialize in the development of custom wallets from the ground up. Our breadth of experience and design-thinking-driven solutions have helped us position ourselves as the best crypto wallet development company.
Partner with Antier Solutions to build a great wallet experience.
We have a global footprint across the globe with:
200+
Clients Across 5 Continents
600+
Blockchain Projects Delivered
15+
Years Of Technical Experience
Antier's Expertise: Delivering Tailor-Made Wallets Aligned with Business Needs
Our White Label Crypto Wallet Solution
We harness our knowledge and expertise to deliver performance-optimized white label multi currency wallet solution that aligns with your goals and corporate identity.
In-chat Transactions
The chat functionality enables wallet users to quickly and easily exchange their crypto assets without any limit and the need to go to a crypto exchange platform.

API Connection to Crypto Exchanges
A secure API connection with the leading crypto exchange platforms enables users to buy or sell their sought after cryptocurrencies without the need to leave the platform.

Buy Crypto with Credit Card
Our white label wallet empowers users to buy the desired cryptocurrency using a credit card while ensuring secure and accelerated transactions.
Sell Crypto
Users can easily sell crypto directly from the wallet and get the money credited to their credit cards with minimum latency.

Multi-coin and Multi-asset
Native support for Bitcoin, Ethereum, and ERC20 tokens. Facilitates seamless integration of altcoins and tokens as per business needs, making it the best multi cryptocurrency wallet.

Enhanced Privacy
Our non-custodial white label wallet replaces private keys with independently created mathematical secret shares that provide enhanced privacy.

Cross-platform Compatibility
Our white label wallet supports iOS, Android, Windows, and Linux. Provide your wallet users with a highly-secure and flexible infrastructure that can be seamlessly accessed on any device.
QR Code Scanner
The QR code scanner allows automatic scanning of wallet address, thereby simplifying the exchange of cryptocurrencies and eliminating human error while copying a wallet address.
NFC (Near Field Communication) Support
Accelerates the exchange of digital assets between users. As the sender taps the NFC tag on the wallet, it automatically fetches the buyer's wallet address and processes the transaction.
Multi-Layer Security
Our white label wallet is reinforced with market-leading security features to achieve a highly-secure infrastructure to send, receive, and store multiple crypto assets.
Auto Denial of Duplicate Payments
The wallet automatically detects duplicate payments and denies the same to completely avoid any chargebacks.
Automatic Conversion Rates
To allow users to view the balance and transferred amount in USD, GBP, AUD, and other fiat currencies.

User-friendly Interface
The self-explanatory interface advances ease-of-use for both beginners and experienced cryptocurrency traders.

KYC Verification
Geography-based KYC verification ensures legitimate user access and authenticated transactions, thereby fortifying the security of users' funds stored in the wallet.
Home Screen Customization
Scroll through the spectrum of cryptocurrencies and toggle them on and off to add them to your home screen.
Launch your White Label Crypto Wallet
like AnCrypto in just 7 Days
Download the AnCrypto App!
Explore its exciting features


Security Features of our White Label Crypto Wallet
We leveraged market-leading security features to achieve institutional-grade security of our white label wallet.
12-Word Mnemonic Phrase
Enables secure transactions and allows hassle-free wallet recovery in case wallet app is mistakenly deleted or installed on another device.
Multi-Signature Support
The multi-signature support enables the wallet owner to assign at most two co-signers to approve the withdrawal request when the amount exceeds the limit set by the owner.
Biometric Authentication
Biometric security, such as facial or fingerprint recognition drives legitimate transactions by authenticating the user every time a request to transfer crypto assets is generated.
Two-Factor Authentication
Two-factor authentication (2FA) provides an extra layer of security to the user authentication process.
Password-Protected Access
The 4-digit secure login PIN ensures authenticated access to a user's account.
Optional Session Logout
Automatically logs out the session in case the user remains inactive for a certain period. This augments the security of users' accounts and funds.
Reasons to Choose our Crypto Wallet App Solution
We navigate your white label crypto wallet development journey while ensuring meaningful outcomes and that your business achieves tangible results.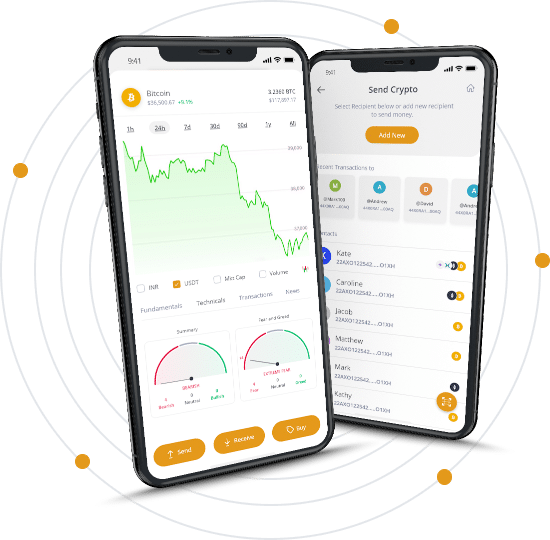 Tested with a user base of 100 million people
Highly-secure and scalable infrastructure
Flawless performance on web and mobile
Accelerated transactions
Self-explanatory interface
Easy management of cryptocurrencies
Ready-to-deploy – can be launched in just 7 days
Seamless linking to any crypto exchange
Ideal for use as a standalone app
Our Cryptocurrency Wallet Development Process
We follow a four-part innovative process to steer your development journey
CONTEXTUALIZE
We work hands-on with our clients to comprehend their needs and contextualize blockchain for their business. We do so while exploring the benefits and challenges and co-innovating around the use case.
ORCHESTRATE
We help our clients prepare for the market disruption as a result of a successful crypto wallet launch. Our strategy and advisory services help clients gauge organizational readiness, anticipate the business impact, and devise a go-to-market plan.
BUILD
We design and architect a crypto wallet, leveraging our rich domain knowledge and breadth of expertise. We work across the organization to engage stakeholders to build solutions ready for deployment.
IMPLEMENT
We implement a crypto wallet solution and authorize updates and changes. We constantly deliver our services and support even after product deployment to ensure that our solutions have a tangible impact on our clients' businesses.
Why Choose us as your Cryptocurrency Wallet Development Company
By partnering with Antier, you can rely on a team of seasoned cryptocurrency wallet developers with real-world experience creating success stories.
Technical Prowess
We exclusively work in Blockchain technologies. We do one thing, and we do it well.
Expert Team
We have 500 experts who help you refine your offering, suggest the best tech approach, and even help set up communities and campaigns.
Rapid Development
We deliver customized products suited to your target audience. A coherent roadmap ensures smooth and accelerated development and deployment.
Complete Support
Our work does not end with the product launch. We provide extensive post-delivery services so that you can focus on your growth.
Meaningful Outcomes
We create a tangible impact. We make sure you see value from your investments.
Frequently Asked Questions
Antier Solutions is a metaverse development company and can help you get started with moving to the metaverse.
1What is the cost to build a crypto wallet?
Just like the development time, the development cost depends on whether you need a white label solution or a customized solution, blockchain-specific wallet or multi-currency wallet, and the features you want to integrate into your wallet.
2How to enhance the security of a crypto wallet?
In addition to standard features like password-protected access and two-factor authentication (2FA), other market-leading security features can be leveraged, such as biometric authentication and multi-signature support.
3How to develop a wallet like Metamask or Trust Wallet?
Both of these are non-custodial and leading wallets. If you want to build similar wallets, connect with our subject matter experts to get world-class products fortified with market-leading features and institutional-grade security.
4How do I create a TRC20 wallet?
The seasoned blockchain engineers and domain experts at Antier can help you quickly build and launch your TRC20 wallet. Partner with us to harness our blockchain experience and expertise, and get a performance-optimized product that helps you gain an essential competitive edge.
5Why should I choose Antier Solutions for cryptocurrency wallet development?
The team of over 500 blockchain experts at Antier leverages its trifecta of deep domain knowledge, breadth of experience, and technical prowess to deliver: • White label wallet solution to accelerate your time-to-market • Tailor-made wallets that support single as well as multiple blockchains as per your business requirements • Wallets for fungible and non-fungible tokens • Centralized and decentralized wallets • Web, mobile, and desktop wallets
6How long does it take to build a crypto wallet?
The time depends on the following factors: • Type of wallet you want to build – white label or customized wallet from scratch. A white label wallet can be launched in much less time compared to a customized wallet. • Blockchain-specific or multi-currency – a blockchain-specific wallet, such as a Bitcoin wallet, an Ethereum wallet, or a wallet built on any other blockchain, can be developed in less time compared to a multi-currency wallet. This is because multi-currency wallet development requires the integration of different blockchains. For example, if you want a multi-currency wallet to support Bitcoin, Ethereum, and Binance Smart Chain, then each chain has to be integrated into the wallet, which requires respective time and effort. • Features to be integrated – more the features, more will be the development time.
Launch Your Crypto Wallet Today!
Please fill in the details below .