Crypto Banking Solutions: A Step to Streamlined Financial Services
With the growing popularity of cryptocurrencies and contactless payments, there is an increasing interest in launching crypto banks for wider reach. Whether you are a bank, a financial institution, a start-up, or a well-established business planning to enter the market with your own crypto bank, we take pride in rendering you with our comprehensive crypto banking solutions.
Antier is a reliable name for its ready-to-use digital banking solution offering a comprehensive range of financial services, including bank accounts, credit/debit cards, trading, and user-friendly payment options. With our expertise, we can enhance your business operations and provide a seamless onboarding experience for your users.
Banking at your Fingertips
Take Your Digital journey to New Heights with White Label Digital Bank Solution
An Insight into White Label Banking Platform
Discover the power of our state-of-the-art white label banking platform and propel your financial institution to new heights. The platform can accelerate your market entry, reduce costs, and provide an exceptional banking experience to your customers with an easy-to-use and mobile-friendly application.
Building Blocks of Our Powerful Crypto Banking App Development
Go beyond your customers' expectations by providing a feature-rich crypto banking app built on top of state-of-the-art infrastructure. At Antier, we offer a crypto banking application that suits both Android and iOS systems with easy-to-use features for admin as well as users.
Discover the Joy of Easy-Peasy Banking With Robust Solutions
Get Your Bespoke Digital Banking Solutions to Simplify Your Financial Journey
What Our Crypto Digital Banking Solution Serves?
The one-stop solution for all your digital banking needs
As the pioneer of digital innovations, we are working with cutting-edge blockchain technology to comprise our scalable crypto banking solution with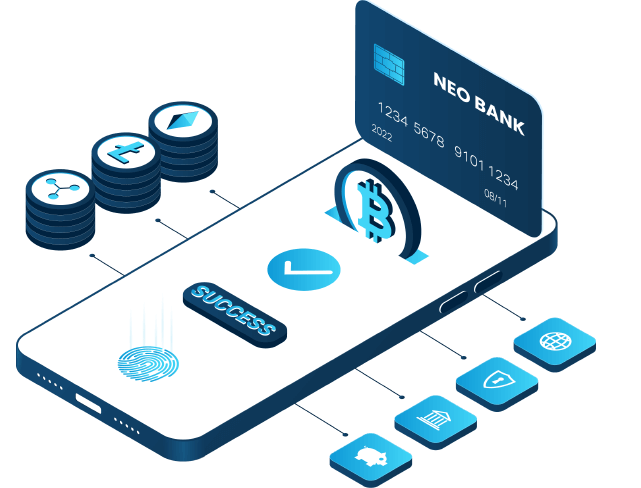 Level up your Banking with White Label Neo Banking Platform
Bringing your neobank to life is easy and quick at Antier with a high-end white label neo banking platform. Harness the potential of our pre-designed white label neo banking solution with a customizable feature to offer your customers a comprehensive suite of digital financial services that fit their lifestyles and modify the way they bank.
Attract and retain customers with our white label neo banking platform and stay ahead of the competition with next-gen features:
Value-added tools
User-friendly interface
Real-time tracking
Hassle-free operations
Virtual Financial Assistant
Smart Savings Goals
Multi-Language Support
Autonomous nature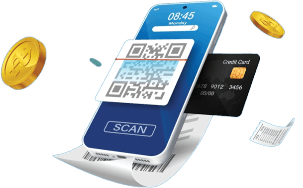 Say goodbye to long waiting times!
Accelerate your banking operations with instant transactions using our neo-banking solution.
Our Roadmap to Crypto-Friendly Bank Development
We, at Antier, follow a comprehensive roadmap enabling you to stay ahead of the curve and provide customers with advanced financial services in the digital age.
Our Roadmap to Crypto-Friendly Bank Development
We, at Antier, follow a comprehensive roadmap enabling you to stay ahead of the curve and provide customers with advanced financial services in the digital age.
Why choose us for Crypto Banking Solution?
By partnering with Antier, you can rely on a team of seasoned finance and technical experts with real-world experience creating countless crypto banking success stories.
Frequently Asked Questions
1What is a crypto bank?
A crypto bank is a financial institution that deals in cryptocurrencies only, no fiat currency is accessible in such banks. All the banking modules are quite similar to those in usual banks, however, all are inclusive of digital banking features.
2What is a white label crypto bank solution?
Basically, a white label solution is pre-built software that can be customized and branded to suit the client's needs. In the case of crypto banking also, it is a ready-to-deploy solution incorporating all banking features and functionalities in a pre-designed structure, open for customization.
3What is neo-banking?
Neobanks are digital-only banking platforms that are exclusively online. In other words, the banking beyond the walls. This sort of banking offers all the banking operations but on an online platform.
4Why are modern businesses investing in crypto banking solutions?
White label digital banking solutions are quick to launch and loaded with all the next-gen industry-leading features. Leveraging these is a cost-effective and time-saving solution for efficient and effortless development for any modern business.
5How much does your digital banking solution cost?
There is no definite cost as the whole scenario depends upon your unique requirements, customization preferences, and the features that you decide to include. Our agenda is to offer you the best-in-class solution still we ensure pocket-friendly services.
6What are the license requirements for establishing a banking institution?
Establishing a banking institution requires obtaining the necessary licenses to ensure compliance with regulatory frameworks. At Antier, we provide guidance and support in navigating the license requirements. We work closely with third-party experts who specialize in banking regulations to ensure a smooth and efficient licensing process.
September 15, 2023
With the ever-rising trend of digital assets, establishing a crypto bank appears to be a strategic move that demands meticulous planning and […]
September 12, 2023
Imagine a world where financial transactions are executed seamlessly, security is paramount, and accessibility knows no bounds. This is the world of […]
August 25, 2023
When the opportunity knocks at the door, we all look for a quick and easy way to leverage it for a better […]