Crypto Friendly Banking Solutions
We provide white label crypto friendly core banking solution to help you launch your digital asset bank.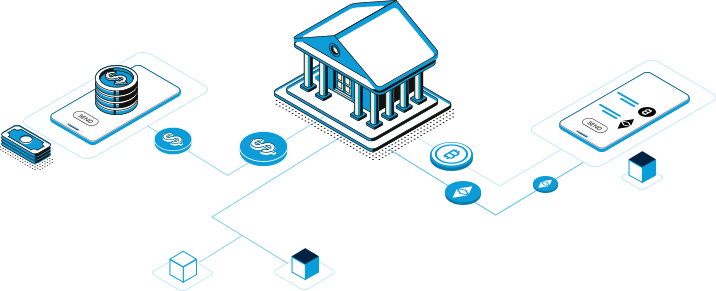 Crypto Friendly Banking Solutions Providers
Your reliable technology partner to build a cryptocurrency bank
Are you a financial institution, a non-financial institution, or a start-up planning to launch a cryptobank? Streamline and accelerate your cryptobank launch with Antier Solutions.
We provide a white label digital asset banking solution that expedites deployment and enables you to tap into the digital asset market quickly. Our white label FinTech platform is packed with all essential banking features – such as bank accounts, payments, credit/debit cards, trading, lending, and user onboarding.
Leverage the experience and expertise of our financial experts and blockchain developers to provide a complete digital asset banking solution to your customers.
An Insight into our White Label
Digital Asset Bank Solution
With a motto to be a pioneer of digital innovation we have developed white label digital asset bank software to help businesses launch a bank for the new economy.
Our platform:
Streamlines and expedites the process to launch a digital asset bank, thereby helping you to take the lead.
Lays the foundation for improved performance – even for established banks by empowering them to maintain their core legacy system.
Backbone of our White Label Crypto
Friendly Banking Platform
Fully integrated banking modules to enable smooth banking operations
Our crypto friendly mobile banking solution provides all necessary banking functions that your customers expect. It is designed to handle all your customers' needs with:
Intuitive front-end: Leverage our ready-to-use white label mobile application or plug our banking modules into your existing infrastructure.
Secure API: Harness our API management system to ensure seamless connectivity with a third party.
Banking modules: Ensure frictionless banking experience for your customers with complete banking modules like customer onboarding, customer account, trading, lending, and payments.
Our Fintech Banking Solution
Everything you need for digital asset bank development
As specialists in digital asset technology, we provide crypto friendly core banking solution packed with the following:
Leverage TextBit to enable your
customers to exchange crypto for free
Usually, sending cryptocurrency to someone locally or globally requires users to pay a mining fee to the network.
TextBit enables your customers to send cryptocurrency for free via SMS. It is easy to use – your customers can simply select a contact from their phonebook and ensure direct transfer of assets. All of the transactions are confirmed via two-factor authentication (2FA) to ensure secure transfer of funds
Why count on us to Launch your Crypto Friendly Bank
By partnering with Antier, you can rely on a team of finance and technical experts with real-world experience creating
digital banking success stories.
Technical Prowess
We exclusively work in Blockchain technologies. We do one thing, and we do it well.
Expert Team
We have 500 experts who help you refine your offering, suggest the best tech approach, and even help set up communities and campaigns.
Rapid Development
We deliver customized products suited to your target audience. A coherent roadmap ensures smooth and accelerated development and deployment.
Complete Support
Our work does not end with the product launch. We provide extensive post-delivery services so that you can focus on your growth.
Meaningful Outcomes
We create a tangible impact. We make sure you see value from your investments.
Regulations and Compliance
We get all regulatory approvals and take care of all compliance matters on your behalf.
July 11, 2022
Crypto and virtual currencies have increased significantly during the past ten years. Blockchain-based crowdfunding is a strategy that many businesses and new initiatives are adopting. Such […]
May 10, 2022
Despite being incredibly uncertain, the crypto market reached fresh highs, producing wealth for early adopters. Today, numerous cryptocurrencies are in existence, including the market giants Bitcoin, […]
December 20, 2021
Solana, a blockchain that is often hailed as "Ethereum Killer" has established itself as a fast, secure, and censorship-resistant protocol in 2021. As one of the […]
Talk To Our Experts
A free consultation is available to discuss your business needs, no obligation, just a friendly chat to work out if we can help.