DeFi Solutions Development
RE-DEFI-NING
Finance on self-governed Blockchain platforms
Decentralized Finance Development
The Future Without Banks
DeFi represents an open financial environment wherein anyone can join, trade and earn interest without the dependency over a centralized entity such
as banks. Antier helps you embrace the power of decentralized finance token development and build secure, outcome-oriented and lasting business models.
The Finance World Before DeFi
The century old traditional finance ecosystem is plagued with inconsistencies that have finally begun to question its credibility. No matter how flawless your banker is, they still miss the market hints while putting your assets to unimaginable risk. And when the global assets are put to such risk, widespread losses are inevitable.
Moreover, the traditional finance ecosystem is not accessible to everyone and thereby isolates a large pool of investors from the primary markets. Consequentially, excessive dependency upon capital investors has cramped their socio-economic impact.
Embracing decentralized financial currency development, institutions can address the below complexities, revamp their model and contribute towards a fairer world
No Accountability
Prone to Risks
Uncontrollable Volatility
Delayed Transfers
Frauds
Inaccessible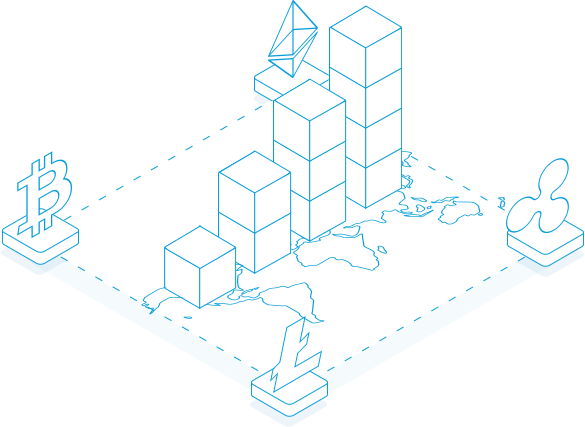 The World With Decentralized Finance
DeFi is an opportunity for finance services providers to take a leap, embrace decentralized Blockchain development and undergo an overarching reincarnation of their products. Using open-source protocols to conceive enterprise-grade solutions, DeFi solutions empower investors gain complete ownership of their assets and trade them in a transparent environment.
To put it simply, financial engagements on DeFi are driven by automated Smart Contracts built by code. Therefore, the model extracts all the benefits of a Blockchain environment with a finance spin.
Improving access to major finance services such as lending / borrowing, trading and market making, DeFi can potentially aid millions of unbanked people. That means, all you need is an internet connection to drive your monetary functions without depending upon anyone.
Consider lending loans to any borrower in the world minus the interference of banks or regulatory bodies. This is a classic use case that ensures drastic reduction in interest rates and wider reach.
Antier creates a completely democratic lending environment wherein anyone can hold and invest their assets by directly engaging with the other party. Given our proven expertise in Blockchain, we pioneered decentralized finance token development.
With Antier – Create Financial dApps Completely Governed By Code
With the limitless possibilities of DeFi, we aim to simplify the provision of lending by steering the ownership to the investors over an agile and fast platform. Having successfully commenced numerous deployments, we know the road to conceive the best DeFi services that are immutable, scalable and highly interoperable. Our end-to-end lending technology synchs with the industrial vision of rewriting the fate of fintech.
Antier helps you absorb the pressures of a ruthlessly evolving fintech landscape and make a secure transition to decentralization. As staunch believers of the decentralized economy, we have empowered organizations to navigate from traditional setups through highly responsive and arbitration-free DeFi platform development. Eventually, our customers have able to detach from capital market restrictions and pitch a completely transparent product that anyone can subscribe to.
While there's no end to our mission to ensure best DeFi token services, our customers have benefited from
Nullified risks & frauds
Total ownership of assets to the users
Better interoperability between stake holders
Lightning node network enabling unlimited transactions
Deep rooted customer loyalty and lasting associations
Our DeFi Centre of Excellence
We own proven experience in the following DeFi services
Decentralized Exchange Development
The crypto tokens are decentralized but their trading is not. This has adversely affected the adoption of Blockchain solutions. We addressed this gap through end-to-end decentralized exchange development. We deliver high-performance DeFi exchange software that enable users to exchange cryptocurrencies without giving up custody of their coins.
DeFi Tokenization Development
Gain from our comprehensive experience in DeFi token development across assets classes. Through our strategic consulting, enterprises and investors leverage the fortune to convert underutilised crypto assets to productive investments. Antier helps you with end to end DeFi token development of issuance platforms.
Open Lending Protocols
Antier empowers existing crypto platforms to extend their lending services, encourage the community for trading in the native token and thus contain the futuristic risks of excessive supply on the exchange. We hold proven expertise in decentralized finance coins development and deploy a non-custodian protocol to fetch interests on deposits.

Market Making Consulting
Antier's exclusive service solutions to create financial markets follow a comprehensive approach of deploying the customer's self-adaptive and proprietary algorithms. Not only does it help in democratizing liquidity but also leaves enough room to customize the model as per the customer's expected return on investment.
Decentralized Crypto Banking
Ensure frictionless experience for your customers over a completely decentralized and validation-free transfer of value between two parties. Antier offers ready-to-deploy white label payment mobile application that covers competent banking modules such as wallet creation, value holding, value transfer and transactional analysis.

DeFi Lottery System Development
Commit no-loss lottery tickets to participants by eliminating custodianship of the pooled capital. Antier's Lottery system over DeFi allows investing the capital in other dApps and reward the major share of the interest earned to a winner randomly chosen by smart contracts. Secure, legal and assured returns!

Derivatives over DeFi Platform
Tap into the humongous potential of derivatives over DeFi. We develop dapps through which traders can hedge their investments and contain risks by directly engaging with peers over a democratic platform. Gain from our vast experience in Derivatives market making and dapp platform development.
Decentralized Fund Management
Antier provides an overarching management of your crypto assets with a vision to produce high performing portfolios over a decentralized exchange. Our deep rooted experience with investment exchanges coupled with the expertise in DeFi detaches you from traditional fee and potential risks.

DeFi Insurance System Development
DeFi Insurance is an essential addition to your end-to-end DeFi portfolio. No matter decentralized finance is democratic; the underlying smart contracts are still prone to exploding in case of uncontrollable liquidity requests. Antier helps you contain futuristic risks by directly engaging into insurance deals.
DeFi Lending Platform Development
1.7 billion people lack access to traditional financial services because they do not have bank accounts. Antier helps you tap into these 1.7 billion people with your crypto lending platform. We offer business-oriented DeFi crypto lending platform development services to deliver feature-rich DeFi crypto lending platform that make financial services available to your users.

DeFi Wallet Development
Let your users be their own bank. We provide DeFi wallet development services to build and deliver a completely decentralized wallet that puts your users in complete control of their funds. Our blockchain developers harness market-leading features during decentralized wallet development to roll out a secure and high-performance DeFi crypto wallet.
DeFi Staking Platform Development
We provide complete solutions for DeFi staking platform development to deliver staking platforms fortified with a robust reward management system. Whether you need a DeFi staking platform on TRON or any other blockchain, our customized DeFi staking platform development services successfully cater to your business needs.
Why Choose usWhy Choose us
Exclusive experience
We pioneered Blockchain development when everyone had not even heard about it.
Expert Team
We are a growing team of 100+ highly skilled Blockchain engineers with deep-rooted understanding of DeFi across enterprise landscape.

Rapid Development
Ready-to-Deploy products and platforms that can be customized as per your enterprise requirement
Regulations and Compliance
All our deliverables are done well in compliance with regulatory jurisdictions.
Complete Support
A comprehensive suite of post-delivery services for uninterrupted management of your product
Business centric Outcomes
We create a tangible impact with a focus on growing the platform community and ensure consistent ROI.
1What is DeFi?
DeFi represents an open finance ecosystem over a Blockchain platform wherein users can directly engage into financial services with each other. For example, lending, trading, etc.
2What are the benefits of DeFi?
DEFI works on automated contracts that further ensure no frauds, instantaneous liquidity and reachability with global investors.
3Who can use DeFi?
Any individual or a professional investors with any amount of fiat currency or fraction or crypto currency can signup on DeFi platform and start trading.
4Who can build DeFi platforms?
Any finance services provider whether individual or agency such as Venture Capitalists, lending providers, trade exchanges can add the DeFi model to their services.
5How is DeFi better than centralized crypto exchanges?
Crypto exchanges may not necessarily be decentralized. The currencies are decentralized. With DEX, investors can directly sell or borrow tokens from each other thereby eliminating the intermediary fee.
6Is DeFi secure?
DeFi platforms are driven by code (smart contracts) that make the entire process automated and immutable. With no manual interference, they are secure and scalable.
January 7, 2021
Cryptocurrency has become popular in recent times. More and more people from across the globe are showing interest in understanding, buying, and trading cryptocurrency. Even though […]
December 24, 2020
The global crypto market capitalization surpassed $644 Billion in December 2020. In August 2020, the cryptocurrency trading volumes witnessed a 75% month-over-month increase since February 2018. […]
December 16, 2020
For the sake of earning a higher potential, crypto traders indulge in cryptocurrency margin trading. Unlike regular trades, margin trading allows traders to open a leveraged […]
Talk To Our Experts
A free consultation is available to discuss your business needs, no obligation, just a friendly chat to work out if we can help.