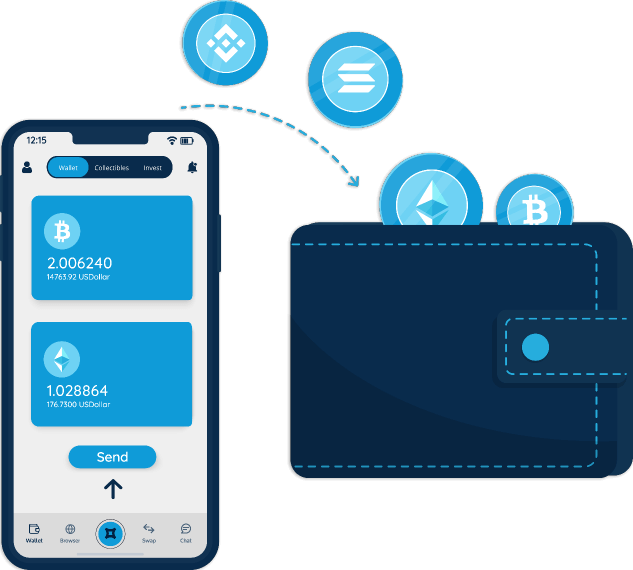 Partner with World's Leaders for Multicurrency Wallet Development
Antier has an extremely talented cryptocurrency wallet development team. We deliver secure & scalable multicurrency wallet solutions and deploy them on the platform of your choice. We keep cross-industry requirements and project scope in mind while developing the wallets. Our team uses the best blockchain technology while developing wallets. Every application we develop is secure and scalable also helps you achieve desired business goals. We integrate stunning designs and integrated with agile development techniques and aim to enrich the wallet experience of the users.
Security Features Of Whitelabel Multi currency Wallet
Explore Our Comprehensive Multicurrency Wallet Development Services
The multicurrency wallet has occupied a major portion of the digital economy. This segment has introduced innovative ideas, such as multicurrency apps that help users perform online transactions securely. As a growing crypto wallet development company, we are your trusted technology partner with wide experience in the IT domain.
Reach Antier and discuss your requirements with our Multicurrency Wallet experts TODAY!
Exquisite Features of Our Multicurrency Wallet
How Do We Develop a Multicurrency Wallet?
Analyzing the Requirements
Comprehend business requirements
Pick the business logic to be infused
Prepare the roadmap
Creating the Technical Design
Create a document defining the smart contract
Data flow diagram creation
Design technical architecture
Proceeding with the Development
Implement proposed smart contract solution
Client evaluation and feedback
Complete the smart contract development
Deployment and Testing
Testnet deployment
Smart contract deployment on Main network
Prioritize the backlog
How Do We Develop a Multicurrency Wallet?
Requirement Analysis
Gathering and comprehending the requirements of the application
Checking the features or conditions to be implemented
Creating a roadmap highlighting the multicurrency wallet development process.
Designing
Developing Smart Contract application document
Representing a data flow chart as a diagram
Devising technical architecture of the Multicurrency Wallet application
Take steps for data protection and privacy compliance
Development
Developing applications using state-of-the-art technology
The Multicurrency wallet application undergoes multiple tests and audits
Errors are rectified to ensure that the application runs smoothly
Deployment
Deploy the multicurrency application on the main network.
Post-Deployment
Updates and new features are added to the application
Backlogs are prioritized during the process
Why Choose Us for Multicurrency Wallet Development?
Antier is a trusted IT partner that delivers enterprise-graded and futuristic multicurrency wallet development solutions. In addition,
we provide unparalleled service accessibility and assist enterprises in achieving their goals.






Frequently Asked Questions
1How Much Does it Cost to Develop a Multicurrency Wallet?
Cost is a significant aspect that is duly considered before developing a Multicurrency wallet. The cost of a Multicurrency wallet depends on the features and complexity of the app. The cost would be estimated keeping these aspects in mind. Our multicurrency wallet development experts will provide a no-obligation estimate and customize the features as per your preferences.
2How Much Time will it Take to Develop a MultiCurrency Wallet?
Antier is a prominent Multicurrency wallet development company. The project completion time depends on the wallet features and functionality the user wants to integrate into the wallet. Develop your Multicurrency wallet with Antier in least turnaround time.
3Do you Adopt Security Measures while Developing a Multi-Currency Wallet?
Security is a prominent aspect of the wallet. We leave no stone unturned in integrating high-graded security features like 2FA and private key access to the wallet. This prevents unauthorized users from accessing the account from an unknown location or device.
June 9, 2023
Decentralized Finance (DeFi) has rapidly emerged as a disruptive force in the financial industry, revolutionizing traditional financial systems. However, the potential of […]
June 9, 2023
Are you the one who hesitates to step into the digital space of crypto banking, just because you are unsure about its […]
June 8, 2023
Supply chains were simple and uncomplicated over a hundred years ago as commerce was local at that time. Though manufacturing has been […]
Discuss Your Requirements Today!
Please fill in the details below .