According to a report by Technavio, metaverse eCommerce market size is estimated to grow at a combined annual growth rate of 39% between 2022 and 2027, increasing by $85,885 million.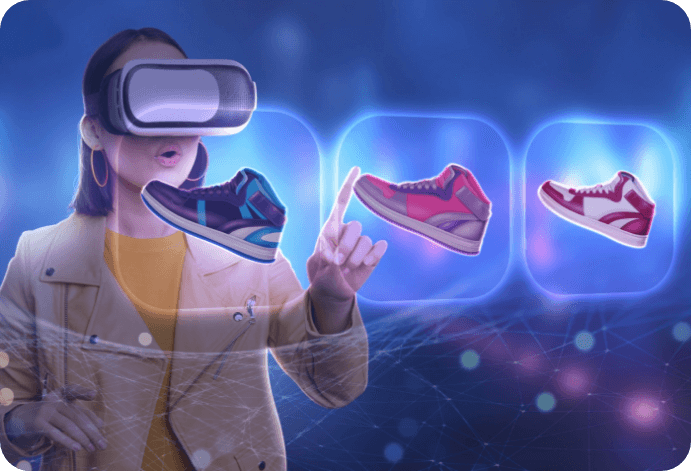 Metaverse in eCommerce Businesses
Metaverse is already being referred to as a dream for merchants because of the limitless possibilities to sell goods online. Metaverse in eCommerce is a relatively new niche. However, the benefits of the metaverse happen to be far-reaching in the eCommerce industry With the metaverse coming into existence along with its benefits for eCommerce, business owners are trying to the best of the possibilities to implement the same in their business. It is exactly the reason why metaverse is gaining a lot of popularity in the eCommerce industry.
We offer premium quality services and solutions for metaverse in eCommerce. Our team of experts ensure that eCommerce businesses can make the best use of metaverse to avail of the array of opportunities that it has to offer for the benefit of their businesses.
Deloitte also suggests that augmented reality experiences also lead to 94 % higher rates of conversion.
One can take inspiration from high-end luxury brands such as Gucci which has sold a digital handbag worth $4,000 for a Roblox player in cash.
According to a Google Survey, it was revealed that about 66% of people would really love to interact with augmented reality or AR while shopping.
Our Development Process
We follow a stepwise development process to provide the highest quality metaverse eCommerce services to our esteemed clients.
Why Choose Antier for Your Metaverse eCommerce Project?
Antier takes pride in being one of the leading metaverse eCommerce companies catering to the varied needs of different eCommerce businesses in the best possible manner without giving anyone even a single chance to complain. Here are some of the top benefits you get when you assign your metaverse in eCommerce projects to us.
Frequently Asked Questions
1How Can You Create a Metaverse for eCommerce?
Metaverse eCommerce platform development involves the appropriate blend of several enabling technologies including augmented reality, virtual reality, artificial intelligence, and others through which new approaches to providing immersive online shopping experiences can be created for consumers.
2I am New to Metaverse. Can You Provide Consulting Services for Metaverse in eCommerce?
We house a team of proficient metaverse experts who offer top-notch metaverse consulting services to enable new players in the metaverse eCommerce sector to enjoy a seamless transition into the new world of the metaverse and make the most out of it for the benefit of their eCommerce businesses.
3What is the Total Cost to Develop a Metaverse eCommerce Platform?
It is not possible to exactly or accurately specify the total cost to develop a metaverse eCommerce platform. The total cost of development depends on a number of factors such as the complexity of the project, the required features & functionalities in the platform, and many more. Get on a call with our team to discuss your requirements in detail and get the right quote for your project.
4I Require Customized Services for Metaverse in eCommerce. Can You Help?
Yes, of course! We offer customized services and solutions for metaverse in eCommerce depending on the specific project requirements. This, in turn, makes sure that you can get exactly what you need without any hassle. Give us a call today to discuss your eCommerce project with our metaverse experts.
5 What is the Time Taken to Develop a Metaverse eCommerce Platform?
It is difficult to specify the exact time needed to develop a metaverse eCommerce platform because it differs from one project to another. The total time needed to build the platform depends on its complexity and the features & functionalities to be included in it.
6Why is Metaverse Important in eCommerce?
Metaverse provides a fantastic combination of all the benefits of virtual shopping as well as in brick-and-mortar stores existing in the physical world, thereby significantly improving the consumer experience.
7How Can eCommerce Businesses Benefit from Metaverse?
eCommerce businesses expanding into the metaverse can benefit from higher retention rates, expansion of customer base, fewer returns, and providing more efficient as well as secure service to consumers.
Cryptocurrency Exchange Platform Development - Process
On-demand cryptocurrency exchange development consumes plenty of time and money. However, it is worth the wait and investment if the platform concept requires high-level customization and integration of complex use cases.
Steps involved in the end-to-end transformation of a mere concept into running crypto exchange software involve: