CIOReviewIndia – a technology magazine that talks about the enterprise solutions that can redefine the business goals of enterprises – listed down "10 Most Promising Blockchain Solution Providers" after meticulous research done by their expert panel comprising prominent CEOs, CIOs, Industry Analysts, and CIOReviewIndia editorial team.
The magazine ranked Antier Solutions number 2 in the list, recognizing how Antier has been helping global enterprises and start-ups to adopt new technologies to stay relevant and in-sync with the times.
With over a decade of experience in technology, 2017 was the year that Antier embraced blockchain and invested in the impact that it was going to create in the finance industry. As our company evolved so did our vision and we recognized what a powerful force cryptocurrency was. Cryptocurrency held the power to sculpt the face of the financial system in its entirety. Not only could cryptocurrency disrupt the financial system that has been carefully structured over the decades, but it could also create a new chapter in the financial system's history that was enriched with technology and paperless banking.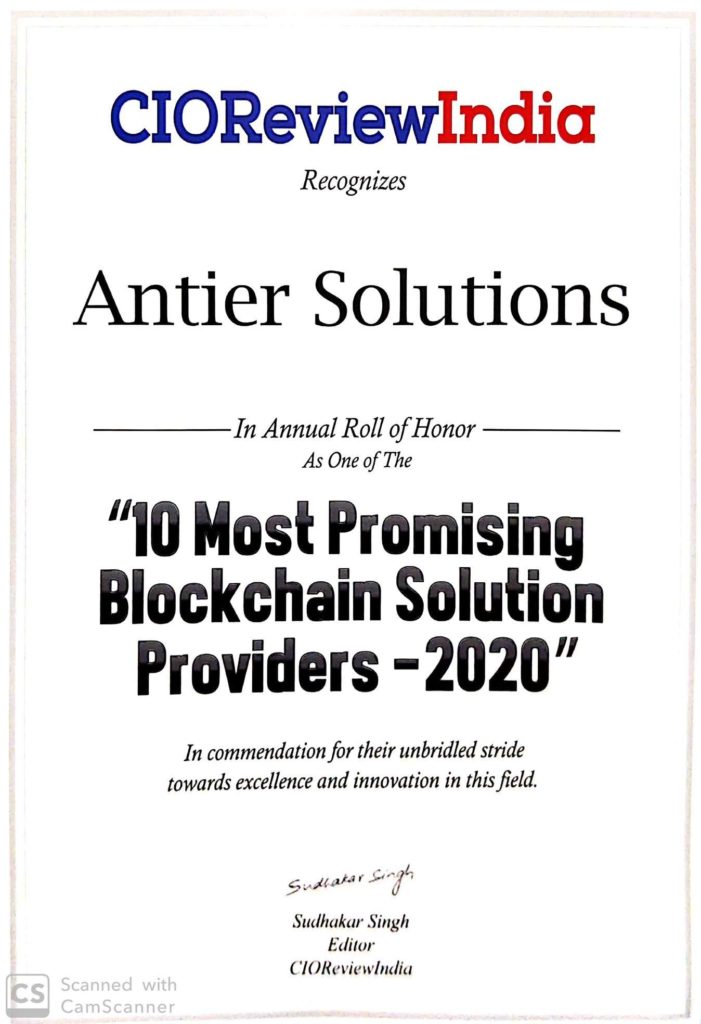 Backed by smart innovation architecture, Antier leads the game in delivering end-to-end crypto banking solutions – from decentralized wallets and blockchain-powered lending platform to secondary exchange markets and automated liquidity solutions. Antier's core blockchain consulting solutions cover conventional use-cases like smart contract-driven platforms for KYC and decentralized finance, international payment remittance, and asset-backed stable coin development. With a strong partner network spanning the globe, Antier accelerates time-to-market, helping brands to tap into the thriving crypto market in just a few weeks.
If you are an enterprise or a start-up planning to capitalize on the blockchain opportunity by launching your crypto or blockchain-powered product, Antier Solutions can be your trusted technical partner. We apply our rich domain experience and expertise to navigate your blockchain development journey, ensuring that you gain transformational business outcomes. Our white label solutions expedite product deployment, helping you to edge out the competition.
Connect with our subject matter experts to share your business needs or schedule a free demo of our white label crypto exchange, wallet, or P2P lending platform.