Imagine a world where you're not just a spectator but an active participant, where digital realms become your playground, and connecting with others feels as natural as a face-to-face conversation. Welcome to the dynamic universe of multiplayer metaverse platforms– a realm where pixels transform into immersive experiences and avatars bring the digital landscape to life.
From virtual classrooms that transcend geographical boundaries to immersive gaming worlds that redefine entertainment, these platforms are rewriting the rules of engagement and opening doors to limitless possibilities. Whether you're a curious explorer eager to understand the next wave of digital evolution or an aspiring architect of the digital age ready to build your own metaverse masterpiece, get ready to embark on a journey that bridges innovation and interaction like never before.
Join us on a quest to unlock the "why" behind the rise of these captivating platforms, where communities flourish and creativity thrives. But that's not all– we are about to unravel the intricate threads of the "how," walking you through the art of creating these immersive environments.

Without any ados, let's get started!
Multiplayer Metaverse Platforms
Multiplayer metaverse platforms represent a revolutionary digital landscape that transcends traditional boundaries, allowing individuals to converge, collaborate, and communicate in immersive shared environments. These platforms provide a holistic and interactive experience that extends beyond mere virtual reality, merging various technologies like augmented reality, virtual reality, and 3D graphics. Here, participants aren't passive observers; they become active contributors, each represented by avatars that mirror their real-world identities.
The true magic of these platforms lies in their potential for seamless interaction. Users can communicate, cooperate, and even compete in real-time, fostering genuine connections that transcend geographical limitations. Furthermore, the metaverse platform for multiplayer gaming also offers unprecedented opportunities for businesses, enabling them to host virtual events, exhibitions, and showrooms, and even conduct e-commerce transactions within the virtual environment.
Why was it necessary to develop a multiplayer metaverse platform?
The need for multiplayer metaverse platforms emerged as a logical response to users' growing demands for more immersive, captivating, and interconnected online experiences in a world where technology is developing quickly. Users of traditional online interactions frequently wished for a more immersive experience– a place where they could connect deeply, work together, and express themselves more freely than what was available.
As social creatures, humans naturally crave meaningful connections and interactions. The rise of social media and online communities laid the foundation, but multiplayer metaverse platforms take this concept to a whole new level. These platforms offer an escape from the confines of our physical reality, allowing users to transcend geographical limitations and engage in shared experiences that go beyond mere chat rooms or static websites.
Triggers Behind Multiplayer Metaverse Platform Evolution
The journey to the development of multiplayer metaverse platforms was ignited by the convergence of several pivotal factors that reshaped our digital landscape. The intersection of advanced technologies, changing user behaviours, and a growing appetite for immersive experiences paved the way for the rise of these groundbreaking platforms.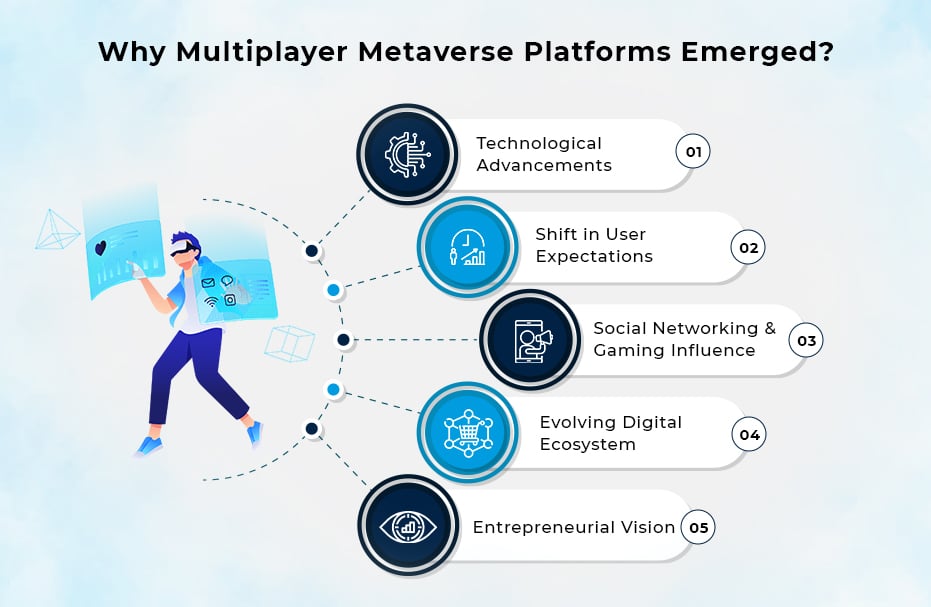 Technological Advancements 
Multiplayer metaverse platforms were made possible by the advancement of technology, including augmented reality (AR), virtual reality (VR), mixed reality (MR), and high-speed internet connectivity. These innovations made it possible to design vibrant, interactive virtual worlds that allowed users to interact with one another and their surroundings in novel ways.
Shift in User Expectations 
Users began to feel that traditional digital experiences were lacking as they yearned for more interesting, dynamic, and connected interactions. Platforms that could provide these features in a single setting were required in order to meet the demand for seamless online collaboration, socializing, and entertainment experiences.
Social Networking and Gaming Influence 
The popularity of social networking sites and multiplayer online games demonstrated the value of online communities and in-person communication. People looked for settings where they could interact with others in ways that reflected real-world situations. This further led to metaverse game development and demand for multiplayer setups too.
Evolving Digital Ecosystem 
The idea of developing shared, immersive environments caught on as businesses and individuals investigated the potential of digital spaces. As a result, multiplayer metaverse platforms were conceptualized, allowing for a range of activities beyond mere entertainment.
Innovators and tech enthusiasts recognized the immense potential of bringing together virtual reality, augmented reality, artificial intelligence, and other cutting-edge technologies. Their visionary drive, combined with the growing need for innovative digital experiences, accelerated the development of these platforms.
The realization of all these above-mentioned factors paved the way for the birth of multiplayer metaverse platforms. These platforms are now designed to redefine how we interact, collaborate, and experience the digital world, bridging the gap between the physical and virtual realms in ways that were previously unimaginable.
Create Your Own Immersive Multiplayer Metaverse Platform With Us
How to Create Multiplayer Metaverse Platforms in Simple Steps
Building your own multiplayer metaverse platform might sound daunting, but with a straightforward approach, you can bring your vision to life. Obviously, it requires a combination of creativity, technical expertise, and a deep understanding of user behaviour.
However, this user-friendly guide will walk you through the easy process:
Step 1-  Define Your Vision and Goals
Begin by articulating the purpose and objectives of your multiplayer metaverse platform. Determine the nature of interactions you want to facilitate, the user experiences you aim to provide, and the overall goals you intend to achieve.
Step 2- Ideate and Plan the Design
Delve into the conceptualization phase, where you map out the virtual landscape of your metaverse. Consider factors such as user navigation, points of interaction, spatial organization, and the visual aesthetics that will define the platform's identity.
Step 3- Choose the Right Technologies
Select the technological tools that will serve as the foundation of your platform. This includes deciding on a game engine, development frameworks, scripting languages, and 3D modelling software. Ensure that the chosen technologies align with your project's requirements and desired outcomes.
Step 4- Develop Core Features
Initiate the development process by creating the essential elements of your metaverse. This encompasses crafting avatars, constructing interactive objects, designing environments, and establishing the fundamental framework that users will engage with.
Step 5- Enable Multiplayer Capabilities
Integrate multiplayer functionalities into your platform. Implement real-time communication features, collaborative activities, and mechanisms that enable users to interact seamlessly with one another. Rigorously test the platform to ensure smooth simultaneous user interactions.
Step 6- Rigorous Testing and Debugging
Conduct comprehensive testing to identify and rectify bugs, glitches, and performance issues. Involve a group of beta testers to thoroughly evaluate the platform and provide valuable feedback on its usability, functionality, and overall experience.
Step 7- Enhance Engagement with Rich Content
Enrich your metaverse platform by adding diverse and engaging content. Incorporate interactive games, virtual events, workshops, educational resources, and creative spaces that align with the interests and preferences of your target audience.
Step 8- Provide Robust User Support
Empower users with clear and comprehensive guides that navigate them through using your metaverse platform. Establish dedicated support channels to address queries, provide assistance, and swiftly resolve any technical issues that users may encounter.
Step 9- Launch and Promote Strategically
Prepare for a successful launch by devising a well-structured marketing strategy. Leverage various platforms, including social media, influencer collaborations, and online communities, to generate excitement and anticipation among your potential user base.
Step 10- Foster Community and Growth
Nurture a vibrant and engaged community within your metaverse platform. Organize regular events, competitions, collaborative projects, and networking opportunities that encourage users to interact, share, and learn from each other.
By meticulously following these comprehensive steps, you can navigate the intricate process of creating a multiplayer metaverse platform that not only brings people together but also opens up a realm of new and captivating digital experiences.
How Multiplayer Metaverse Platform is Beneficial for Businesses?
As the digital world continues to evolve, businesses are seeking innovative avenues to captivate their audience's attention, leaving a lasting impact that transcends traditional marketing approaches. A multiplayer metaverse platform offers a plethora of benefits to businesses, revolutionizing how they engage with customers, enhancing their brand presence, and driving growth. The five key ways in which a multiplayer metaverse platform can be highly advantageous for any business are:
1. Immersive Brand Experience
Multiplayer metaverse platforms provide an immersive environment where customers can interact with products, services, and brand experiences in a dynamic and engaging manner. This creates a deeper and more memorable connection between customers and brands. Therefore, by establishing a presence on metaverse platforms, businesses can amplify their brand visibility among a highly engaged and tech-savvy audience. This visibility goes beyond traditional marketing channels and enables businesses to interact with potential customers in a more personal and immersive manner.
2. Global Audience Reach
Multiplayer metaverses transcend geographical boundaries, allowing businesses to connect with a diverse global audience. This extended reach opens up new markets and opportunities for expansion, all while creating a sense of inclusivity. Hence, your brand can attract and engage users from various corners of the world, allowing you to expand your reach and build a diverse and loyal customer base.
3. Interactive Marketing Opportunities
While offering unique marketing avenues that traditional methods can't match, brands can leverage these platforms to create virtual events, exhibitions, and experiences that resonate with users. This allows for creative storytelling, showcasing products in novel ways, and fostering genuine connections. Interactive business events, virtual product launches, and in-game advertisements are just a few examples of how companies can engage their audience in an innovative manner generating better opportunities for the future.
4. New Revenue Streams
One of the most exciting aspects of embracing multiplayer metaverse platforms is the potential to unlock innovative revenue streams. These platforms create a digital marketplace where businesses can introduce and sell virtual products, services, and experiences. Whether it's virtual merchandise, exclusive in-game items, or personalized digital content, these offerings provide a unique way to monetize engagement within the metaverse.
Moreover, businesses can tap into the concept of "metaverse economies," where virtual currencies and tokens enable seamless transactions. This opens the door to microtransactions, subscriptions, and even NFT (Non-Fungible Token) sales
5. Partnerships and Collaborations 
Within the immersive realm of multiplayer metaverse platforms, businesses have a unique opportunity to foster partnerships and collaborations that transcend traditional boundaries. Companies can seamlessly team up with other brands, influencers, or content creators to co-create engaging experiences, events, or virtual spaces. These collaborations can result in innovative marketing campaigns, joint virtual events, and cross-promotions that resonate with the shared audience. 
6. Competitive Edge
Embracing multiplayer metaverse platforms provides a unique opportunity to set your brand apart from the competition. Early adopters of this technology position themselves as pioneers and trendsetters in their respective industries. By establishing a strong presence within the metaverse, businesses can not only capture the attention of tech-savvy audiences but also shape the evolving landscape to their advantage. This proactive approach not only showcases an organization's forward-thinking nature but also enables it to dictate the rules of engagement in a space where rules are still being defined.
Get Into The Metaverse With Our Tailored Solutions.
How Antier Can Help?
No wonder, the metaverse has redefined the boundaries of what's possible, inviting us all to participate in shaping the next era of digital evolution. It is quite apparent that multiplayer metaverse platforms are not just technological innovations; they represent a fundamental shift in how we interact, engage, and imagine the future. 
Whether you're an entrepreneur seeking novel avenues to engage customers, a developer with a passion for crafting virtual worlds, or simply an enthusiast eager to experience the metaverse's wonders, remember that this journey is only just the beginning. If you plan to boost your business reach within the metaverse with multiplayer settings, Antier can be your best partner to propel your business to new heights in the virtual world.
Get in touch with the subject matter experts and discuss your unique business idea today!