Supply chains were simple and uncomplicated over a hundred years ago as commerce was local at that time. Though manufacturing has been globalized in the present times, supply chains have become more complex. Given what is at stake, many businesses have pushed themselves towards rapid digitization of supply chains by adopting several emerging technologies and Blockchain is one of them.  
This blog sheds light on various Blockchain use cases in supply chain and how global leaders are utilizing Blockchain supply chain solutions to handle today's disruptions. Before moving further, have a look at the flowchart depicting how a supply chain network works with Blockchain and without Blockchain. 
Top 5 Blockchain Use Cases in Supply Chain 
Transport & Logistics 
Improved Transparency 
Blockchain provides increased transparency and traceability throughout the supply chain due to its decentralized nature. Each transaction is added to the Blockchain, creating an auditable trail of all activities, including relevant documentation, the movement of goods, and changes in ownership. Not only it helps logistics businesses reduce fraud in the supply chain but also facilitates faster dispute resolution and improves accountability.  
Reduced Overhead Cost 
From compliance verification to order fulfillment to payment processing, smart contracts can automate various tasks in the logistics supply chain. It reduces the need for manual processes, intermediaries, and paperwork, resulting in improved efficiency and cost reduction.
Data Integrity 
Blockchain supply chain solutions employ advanced cryptographic techniques to ensure the security and integrity of data. Immutability in the Blockchain technology helps to prevent unauthorized access, counterfeiting, and data manipulation, providing increased security for sensitive data such as payment information, shipment details, and logistics contracts. 
Faster Payments Settlements 
Transactions can be executed directly between the involved parties, eliminating the need for intermediaries and reducing settlement times by utilizing Blockchain technology for supply chain. Moreover, the usage of digital currencies on the Blockchain can enable instant and secure payments, making cross-border transactions faster and more efficient.
Real-Life Example: UPS(United Parcel Service)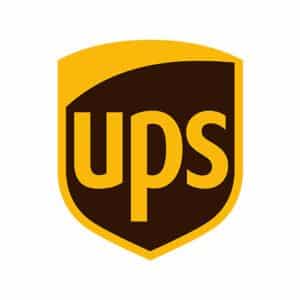 UPS is an American multinational logistics company founded in 1907. UPS joined forces with Inxeption, an e-commerce platform, to create a Blockchain-based platform called Inxeption Zippy.
Inxeption Zippy aims to streamline and secure the supply chain process for B2B transactions. The platform leverages Blockchain technology for supply chain management to provide end-to-end visibility and traceability of products. 
Inxeption Zippy automates various supply chain processes, including order management, inventory tracking, and payment reconciliation. The platform ensures that transactions are securely recorded, authenticated, and verified, reducing the risk of fraud and enhancing trust among participants.
With Inxeption Zippy, businesses can effectively manage their supply chain, track shipments, and access real-time data and analytics. This transparency and efficiency contribute to improved inventory management, reduced costs, and faster order fulfillment.
2.  Food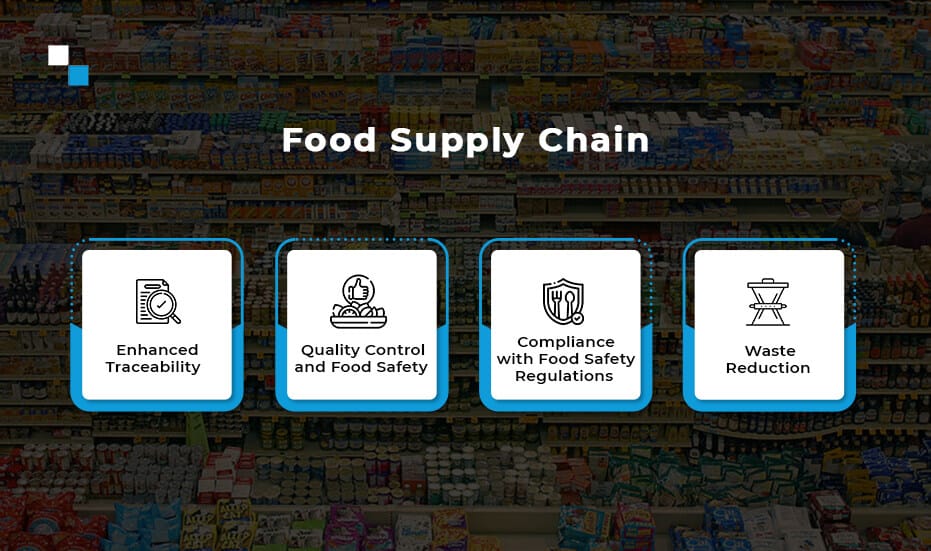 Enhanced Traceability 
Blockchain supply chain solutions enable end-to-end traceability of food products. From the manufacturer to the end consumer, it's possible to track every activity involved in the food supply chain such as production process, transportation details, and storage conditions. In addition to that, the affected food items could be removed and identified from the supply chain in case of a product recall. 
Quality Control and Food Safety 
The usage of Blockchain technology for supply chain management in the food industry enables real-time verification and monitoring of data such as humidity, temperature, storage mediums, and more. This ensures that proper handling and storage protocols are followed in the supply chain, reducing the risk of fraud, contamination, and spoilage. Stakeholders will be promptly alerted in case of any deviation or discrepancy, allowing for timely corrective actions. 
Compliance with Food Safety Regulations 
Compliance with industry standards and food safety regulations is crucial for businesses in the food supply chain. Blockchain supply chain solutions can facilitate compliance by ensuring that all processes and transactions are recorded and auditable. This helps in demonstrating adherence to regulatory requirements, such as Good Manufacturing Practices (GMP), organic certifications, and Hazard Analysis and Critical Control Points (HACCP). 
Waste Reduction
By analyzing the data stored on the Blockchain, companies can identify areas for improvement, reduce excessive inventory, optimize logistics routes, and minimize waste. These optimizations not only lead to cost savings but also contribute to sustainability efforts by reducing the environmental impact of the food supply chain.
Real-life Example: Walmart
Walmart is an American Multinational Retail Corporation founded in 1962 by Sam Walton and James Walton. Walmart has collaborated with IBM to boost the transparency and traceability of its food supply chain. Just after its collaboration with IBM to develop a traceability system based on the Hyperledger Fabric, Walmart is able to trace mangoes stored in its US stores within 2.2 seconds.
In addition to that, Walmart has managed to improve the food safety and quality by identifying the source of contamination without any hassle. Suppliers associated with Walmart were able to record every step through their mangoes' supply chain journey from farm practices to storage conditions to transportation. 
The success of this project inspired Walmart to expand its Blockchain implementation to other products such as leafy greens and pork. 
3. Pharmaceutical
Reduced Counterfeiting
Though each activity from manufacturing to distribution and dispensing, can be recorded on the Blockchain, malicious actors may find it difficult to enter the supply chain which will prevent drug counterfeiting and ensure that legitimate medicines are delivered to end customers. It will be easy to authenticate the history of each medication which will reduce the risk of falsification and improve patient safety.
Better Drug Authentication 
Blockchain supply chain solutions can facilitate the authentication of high-value drugs and ensure their integrity throughout the pharmaceutical supply chain. Moreover, Blockchain-based systems will enable more efficient supply chain financing by providing transparent and verifiable transaction data, which can help in reducing and improving liquidity and financing costs for pharmaceutical companies.
Secure Data Management 
Pharmaceutical supply chains involve sensitive data and information such as manufacturing processes, patient information, and intellectual property. Access controls and encryption mechanisms can be implemented to protect sensitive information while allowing authorized parties to access relevant data. 
Recall Management
Unique identifiers or serial numbers can be recorded on the Blockchain, allowing stakeholders to verify the integrity and authenticity of medications. In case of product recalls or quality issues, Blockchain enables faster and more accurate identification of affected products, leading to quicker remediation and reducing the potential harm to patients. 
Real-life Example: Pfizer
Pfizer is a US-based pharmaceutical company established in 1849 by two German entrepreneurs, Charles Pfizer and Charles F. Erhart. Pfizer collaborated with Chronicled, a Blockchain-powered supply chain solution, with an aim to improve the security and traceability of pharmaceutical products.
The primary reason behind joining forces with Chronicled is to address challenges surrounding supply chain inefficiencies, counterfeit drugs, and regulatory compliance. Pfizer created an immutable record of each pharmaceutical product's to track batch numbers,   location information, and expiration dates.        
In addition to that, Pfizer and Chronicled have taken significant steps to improve the integrity, transparency, and security of pharmaceutical products, ensuring that patients receive genuine and safe medications while reducing the risk of counterfeit drugs in the market.
4. Manufacturing 
Intellectual Property Protection 
Intellectual property (IP) is a valuable asset in the manufacturing industry. Blockchain supply chain solutions could be used to securely record and manage patents, trademarks, and copyrights. Blockchain will provide an immutable record of usage and ownership rights, reducing the risk of unauthorized access and IP infringement. 
Inventory Tracking 
From raw material sourcing to product delivery, each detail can be recorded on Blockchain solutions such as production processes, supplier information, shipping records, and quality inspections. It will also enable accurate tracing of products in case of recalls or quality issues, improving the brand reputation and reducing the impact on customers. 
Risk Mitigation
Blockchain-based solutions enable lenders to have greater visibility into the supply chain activities, mitigating risks associated with lending.  In addition to that, it can improve cash flow, minimize credit risk, reduce financing risks, and protect manufacturers from reputational damage. 
Better Efficiency 
Utilizing Blockchain technology for supply chain management in manufacturing reduces paperwork, delays, and manual interventions which will result in cost reduction and improved operational efficiency. Real-time visibility into the supply chain data also enables inventory optimization, better planning, and demand forecasting, leading to reduced inventory holding costs and improved customer service. 
Real-life Example: Ford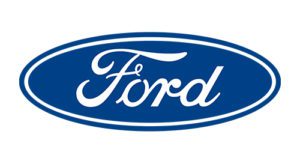 Ford is a US-based automobile manufacturer founded in 1903 by Henry Ford. The company developed a Blockchain-powered supply chain system called "Automotive Blockchain Consortium" with the goal to track and verify the origin and authenticity of auto parts throughout the supply chain.
Ford aimed to improve supply chain efficiency, address challenges related to counterfeit parts, and enhance trust among its suppliers and customers. All  participants in the supply chain can record and share information about parts, including assembly and manufacturing details, certifications, quality inspections, and shipping records.
Moreover, the usage of smart contracts on the Blockchain has made it easy for Ford to automate and streamline various supply chain processes. 
5. Mining 
Ethical Sourcing
Blockchain supply chain solutions could be used to track the provenance of raw materials and prevent unethically sourced minerals to enter the mining supply chain. From cultivation to delivery, the network ledger can record the location of the raw material extracted during mining, the quantity produced, and any changes to the material's custody.  
Sustainability 
Though mining is one the largest material contributors to carbon emissions, a Blockchain supply chain solution could be utilized to track emissions, reduce waste, and measure environmental impact. Moreover, artisanal miners that use certified sustainable and ethical mining practices could be easily highlighted with the usage of Blockchain. 
Certification and Compliance 
Compliance with regulations and standards is critical in the mining industry, including environmental regulations, labor practices, and safety requirements. Blockchain supply chain solutions can also facilitate the certification process by securely storing certifications and audit records, making it easier to demonstrate compliance with industry-specific standards.
Environment Friendliness 
Blockchain helps in identifying and addressing social and environmental issues associated with mining operations. Stakeholders can have visibility into the working conditions, labor practices, and environmental impacts throughout the supply chain. It supports sustainability initiatives, and promotes ethical practices, enhancing the reputation and social license to operate for mining companies.
Real-life Example: BHP
BHP is a multinational mining and natural gas petroleum company headquartered in Australia. BHP works in coordination with Minehub, a registered trademark of Minehub Technologies, to digitize its supply chain processes for mineral concentrates. From extraction to journey, MineHub enables the secure and immutable recording of key data points at each stage of the mineral concentrate's journey.
The transparency offered by MineHub helps prevent fraud, reduces disputes, and ensures compliance with responsible sourcing practices. The platform automates various supply chain processes, such as trade documentation, approvals, and payments. This automation streamlines operations, reduces paperwork, and improves overall efficiency.
Conclusion 
Blockchain technology for supply chain holds tremendous potential for transforming the way goods are traced, verified, and tracked across global networks. In addition to promising a more secure, transparent, authentic, collaborative, and efficient ecosystem, Blockchain technology will empower businesses to optimize their operations and meet the increasing demands of consumers for a reliable and sustainable supply chain in the foreseeable future. 
Entrepreneurs willing to invest in Blockchain supply chain solutions must get in touch with Blockchain supply chain development companies like Antier to share their unique business requirements.