Planning to jump on the bandwagon of crypto friendly banking? Great idea! Need an outlook on what the leading banks are offering to make your platform stand out from the rest, you have reached the right place. 
The pace with which cryptocurrencies are gaining traction among the tech giants and the common people is unbelievable. Apart from just the regular trading thing and holding crypto for earning, people are initiating to use of crypto for their other day-to-day tasks which demand crypto friendly bank development to craft suitable platforms. Though the banks usually offer similar sorts of services to stay ahead of the competition, you need the best.
Whether you're an avid crypto user, a tech enthusiast, or simply intrigued by the future of finance, this blog is your gateway to discovering the banks at the forefront of the crypto-friendly revolution. This will aid you to plan a robust layout for offering a comprehensive suite of banking operations and a user-friendly interface.

Let's delve deeper into the list of leading banks after knowing what crypto friendly banks actually are.
What is Crypto Friendly Banking?
When standard banking services are combined with skills linked to cryptocurrencies, this is referred to as crypto-friendly banking. It entails giving consumers the option to hold, trade, and conduct financial transactions using cryptocurrencies in a controlled and secure banking environment. 
Fiat-to-crypto and crypto-to-fiat conversion services, as well as seamless integration with cryptocurrency exchanges, are some of the features that crypto-friendly banks offer. By adopting crypto-friendly banking solutions, people and companies can benefit from traditional financial services and the developing cryptocurrency market, promoting greater financial inclusion and flexibility.
Talking about the current status, the number of crypto friendly banks already running and ruling the digital banking space is growing rapidly.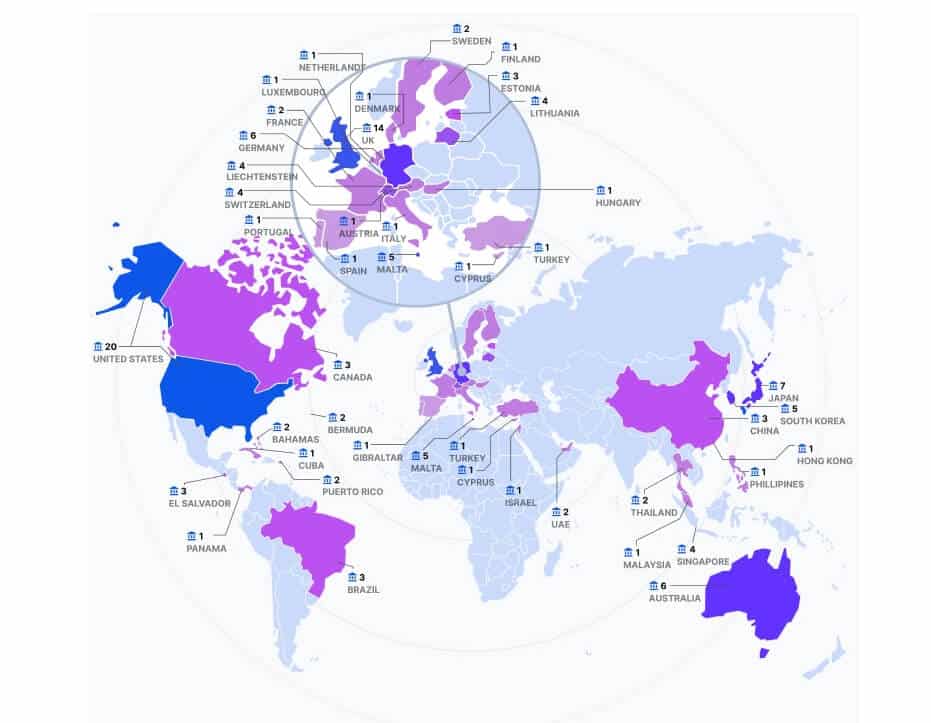 Crypto Banking vs. Crypto-Friendly Banking 
Though both crypto banking solutions and crypto friendly banking solutions appear to be similar terminologies, there is a significant difference. If you plan to step into this world, the very first thing is this clarity so that you have a clear vision of what to work on and where to invest.

After going through this table, you will have more clarity for your agenda- 

Top 5 Crypto Friendly Banks 2023
Now that you are clear with the difference and you know what crypto friendly banking solutions must have, let's move ahead to the top 5 crypto friendly banks of 2023 to strengthen your plan and ideology before entering this new digital world.
1. Revolut
With its launch in March 2020, Revolut has become a new US-based FinTech player. Its innovative approach to banking has made it a European market leader. Users can purchase Bitcoin directly from the Revolut app on Android and iOS. 
Revolut offers a user-friendly interface that simplifies the process of buying and selling cryptocurrencies, making it accessible to both experienced and novice users.
Revolut supports 100+ different crypto assets, allowing users to buy, sell, and trade various cryptocurrencies.
The crypto friendly banking app provides the flexibility to buy crypto as needed or set up auto-exchange to purchase crypto when a certain rate is reached. 
Revolut introduces crypto "collections," which are bundles of different tokens in sectors like DeFi and blockchain gaming.
With Revolut's crypto card feature, users can seamlessly convert their cryptocurrencies into fiat currencies and spend them anywhere that accepts card payments.
Revolut's success as a crypto-friendly bank has established it as a leading player in the crypto market, providing users with a comprehensive and convenient solution for their crypto banking needs.
2. BankProv
BankProv is a leading banking institution that has embraced the crypto revolution by offering a range of crypto-friendly banking services. Users can seamlessly access and manage their crypto assets through BankProv's user-friendly platform with a range of innovative features and services.
Users can easily buy, sell, and store cryptocurrencies within BankProv's secure digital wallet, offering a seamless and integrated solution.
With BankProv, users have the flexibility to convert their cryptocurrencies into fiat currencies, making it convenient to spend their crypto holdings.
The bank offers competitive interest rates on cryptocurrency lending, providing clients with opportunities to earn passive income on their digital holdings.
BankProv's reputation as a trusted financial institution in the traditional banking sector adds an extra layer of trust and credibility to its crypto-friendly services.
BankProv's commitment to innovation drives continuous improvement and the development of new features and services to meet the evolving needs of its clients. With a focus on security, privacy, and compliance, BankProv has established itself as a trusted partner for institutions seeking crypto banking solutions.
3. JPMorgan Chase
JPMorgan Chase is one of the largest and most reputable banks globally, offering a wide range of financial services, including traditional banking and investment banking. The bank has demonstrated a growing interest in the cryptocurrency industry, with the launch of its own digital currency called JPM Coin.
JPMorgan Chase provides crypto friendly banking services to selected cryptocurrency exchanges and digital asset firms, offering them access to banking facilities and streamlined transaction processing.
The bank's advanced risk management systems and expertise in compliance enable it to navigate the regulatory landscape and provide a compliant environment for crypto-related activities.
Also, it offers comprehensive institutional-grade research and market insights on cryptocurrencies, empowering clients to make informed investment decisions.
The bank's integration with major cryptocurrency exchanges allows for seamless connectivity and real-time execution of trades.
JPMorgan Chase's strong reputation and track record in the financial industry give clients confidence and trust in their crypto banking services. The bank's customer-centric approach ensures personalized support and tailored solutions to meet the unique needs of clients in the rapidly evolving crypto landscape.
4. Juno
Juno is a crypto friendly bank that offers a seamless and user-friendly experience for managing both traditional and digital assets. With Juno, users can earn high-yield interest on their crypto holdings through staking and liquidity mining.
Juno introduces an innovative savings account called the "Smart Treasury" that provides users with attractive yields on their stablecoin holdings.
It leverages advanced technology such as AI and machine learning algorithms to provide personalized financial insights and recommendations to its users.
Juno offers a comprehensive suite of financial services, including lending, borrowing, and asset management, catering to the diverse needs of both individual and institutional clients.
The bank fosters strategic partnerships with leading blockchain projects and financial institutions to enhance its product offerings and expand its reach in the crypto banking space.
Juno's commitment to transparency and community engagement sets it apart, as it actively seeks feedback and input from its users to continually improve its services and meet their evolving needs becoming a choice for crypto friendly bank development.
5. HSBC
HSBC (Hongkong and Shanghai Banking Corporation) is one of the largest banking and financial services organizations in the world. While it doesn't offer direct crypto services, HSBC has shown interest in the industry and is actively monitoring its developments.
HSBC has ventured into offering crypto banking services, allowing customers to invest, trade, and manage cryptocurrencies through its platform.
HSBC ensures strict adherence to regulatory frameworks and compliance standards, providing a secure and compliant environment for crypto transactions.
HSBC collaborates with fintech companies and blockchain startups to foster innovation and develop new solutions for the crypto ecosystem.
With its extensive international network, HSBC enables seamless cross-border crypto transactions, facilitating global transfers and settlements for customers.
By combining its established banking expertise with a growing focus on digital assets, HSBC aims to provide comprehensive services and support to individuals and institutions venturing into the world of crypto friendly bank development.
How Antier can help?
It is not a secret that cryptocurrency is gaining unprecedented traction with the ongoing digitization of the world. Owing to the changing trend, even businesses are looking for their entry with digital solutions. The best ideology to supercharge the business growth is to invest in crypto friendly banking solutions which offer both fiat and crypto-based services. 
If you are also interested in setting up your own digital bank with minimal effort yet a maximum yield, Antier can be your trustworthy crypto friendly banking service provider. With our years of experience and understanding of market trends, we hold a strong portfolio catering to all modern crypto needs with our comprehensive solutions. Don't let your competitors outshine you, choose our robust banking platform and lead the industry with confidence!