Are you curious about how to create your own NFT (non-fungible token) but don't know where to start? 
Look no further! 
In this ultimate guide, we'll take you through a step-by-step tutorial on how to build your own NFT, from choosing the right platform to minting your token and putting it up for sale. NFTs have taken the digital world by storm, with everything from artwork to tweets being sold for millions of dollars. By creating your own NFT, you too can join in on this exciting new trend and potentially earn some serious cash. 
Whether you're an artist, musician, or simply interested in the world of blockchain technology, this guide is for you. So let's get started on how to develop an NFT!
What is NFT Development?
Before we dive into the process to create your NFT token, let's first define what an NFT actually is. 
NFT, or non-fungible token, can be defined as a digital asset that represents ownership or proof of authenticity of a unique item or piece of content, such as artwork, music, videos, or collectibles, on a blockchain. Unlike cryptocurrencies like Bitcoin or Ethereum, which are interchangeable and can be exchanged for one another, NFTs are distinct and cannot be replaced or exchanged on a one-to-one basis. Each NFT has a specific and unique value, making it one of a kind in the digital realm.
NFTs are often used to represent digital art, music, videos, and other types of media. They are bought and sold on various online marketplaces, and the ownership of an NFT is recorded on the blockchain, making it a secure and transparent way to buy and sell digital assets.
Why Create Your Own NFT?
There are several benefits when you make an NFT that may appeal to artists, musicians, and other creators. First and foremost, by creating an NFT, you can potentially earn a significant amount of money. NFTs have sold for millions of dollars in recent months, with some digital artworks fetching prices that rival those of physical art pieces. 
Additionally, by creating an NFT, you can retain ownership of your digital asset and control how it is used and shared. This is in contrast to traditional social media platforms, where your content can be easily copied and shared without your permission. Lastly, creating an NFT allows you to participate in the exciting and rapidly evolving world of blockchain technology, which has the potential to revolutionize various industries.
Before getting into the details, let's take a look at some appealing stats:
The average revenue per user in the NFT market amounts to US$114.80 in 2023.
$1.95 billion worth of NFTs were traded in the month of April 2023.
NFTs are collected by 23% of Gen Y (millennials) in the United States.
How to Create your own NFTs in 2023: A Step-by-Step Process
Now that you understand what an NFT is and the benefits of creating one, let's dive into the process of creating your own NFT. This step-by-step guide will take you through each stage of the process, from choosing the right platform to marketing and selling your NFT, and learn the details of how to create an NFT flawlessly. So, here you go!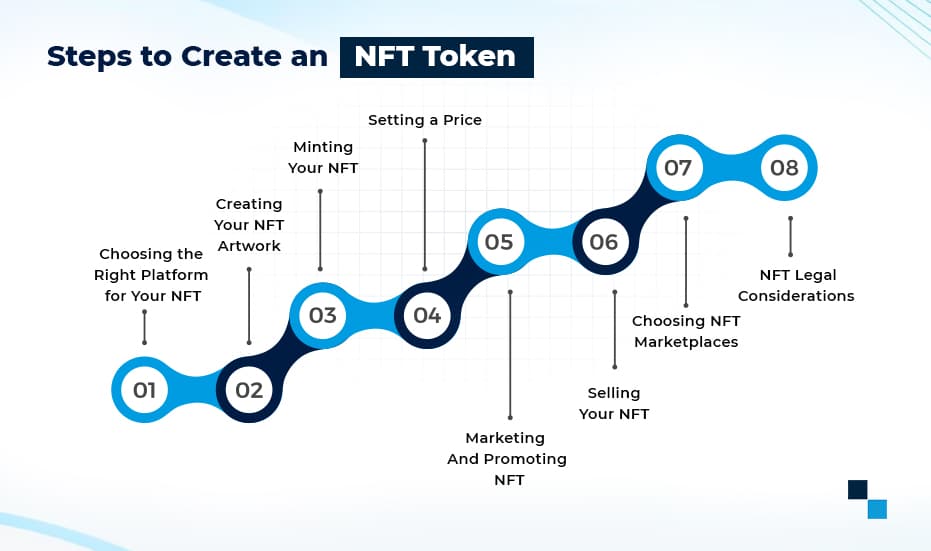 STEP 1: Choosing the Right Platform for Your NFT
The first step of how to create an NFT token is to choose the right platform to host and sell your digital asset. There are several online marketplaces that specialize in NFTs, each with its own set of features and fees. Common examples of most well-known NFT marketplaces include OpenSea, Rarible, and SuperRare. 
Consider the fees charged by the platform, the size of the marketplace, and the kind of digital assets sold on the platform when choosing a platform. Once you have chosen a platform, you will need to create an account and connect your digital wallet to the platform.
STEP 2: Creating Your NFT Artwork
The next step in how to make an NFT is to create digital artwork or media that will be represented by the token. This can include anything from a digital painting to a short video clip or a piece of music. When creating your artwork, keep in mind that it should be unique and high-quality, as this will increase the chances of it being sold for a high price. 
You should also consider the file format and size of your artwork, as different platforms have different requirements. Once you have created your artwork, you will need to save it as a digital file.
STEP 3: Minting Your NFT
After creating your artwork, you will need to mint your NFT. Minting an NFT means creating a unique token on the blockchain that represents your digital asset. This is done by uploading your digital file to the NFT platform and following the steps to mint your token. Minting an NFT usually incurs a fee, which varies depending on the platform and the size of the file. Once your NFT is minted, it will be recorded on the blockchain, and you will be the owner of the token.
STEP 4: Setting a Price
As the NFT is minted, the next step is to set a price for it. This can be a tricky task, as the value of NFTs can vary widely depending on factors such as the quality of the artwork, the popularity of the creator, and the demand for the asset. When setting a price for your NFT, consider factors such as the cost of creating the artwork, how to create NFT art, the fees charged by the platform, and the potential resale value of the token. You should also consider how to create NFT and sell through an auction or a fixed price.
STEP 5: Marketing And Promoting NFT
After setting a price for your NFT, it's time to start marketing and promoting it. This is an important step in the process, as it will help to generate interest in your NFT and increase the chances of it being sold for a high price. There are several ways to market your NFT, including social media, email marketing, and online advertising. You can also reach out to influencers and other creators in your niche to see if they are interested in promoting your NFT to their audience. When marketing your NFT, be sure to highlight its unique features and the benefits of owning it.

STEP 6: Selling Your NFT
The final step in the process of how to make NFT and sell them. This can be done through the platform where you minted your token, or through other marketplaces that specialize in NFTs. When selling your NFT, be sure to follow the guidelines set by the platform and ensure that the buyer is able to securely purchase and transfer the token. You should also consider the tax implications of selling your NFT, as it may be subject to capital gains tax.
STEP 7: Choosing NFT Marketplaces 
As mentioned earlier, there are several NFT marketplaces to consider while you create NFT token and further sell it. Some of the most popular platforms include OpenSea, Rarible, and SuperRare. Each platform has its own set of features and fees, so be sure to do your research before choosing a platform. It's also worth considering niche marketplaces that specialize in specific types of digital assets, such as music or gaming.
STEP 8: NFT Legal Considerations
Finally, it's important to consider the legal implications of creating and selling an NFT. While NFTs are a relatively new phenomenon, there are already several legal issues that have arisen. For example, there have been cases where artists have been sued for using copyrighted material in their NFTs. It's important to ensure that you own the rights to the digital asset that you are minting as an NFT and to obtain any necessary licenses or permissions before creating and selling your NFT or investing in NFT development services.
Things to Consider Before You Develop an NFT
Before you build your own NFT, it's important to consider several key points to ensure a successful and effective implementation. Here are some points to consider:
Purpose: Clearly define the purpose of your NFT project. Determine whether you want to create NFT tokens for art, collectibles, music, virtual real estate, gaming assets, or any other specific domain. Understanding the purpose will guide the NFT token development process.
Blockchain Selection: Choose the appropriate blockchain network for your NFT project. Consider factors such as scalability, transaction fees, security, community support, and existing infrastructure. Ethereum, Binance Smart Chain, and Flow are popular choices, but other blockchains may suit your specific needs.
Smart Contract Development: Develop or deploy smart contracts that define the characteristics and functionalities of your NFTs. Ensure the contracts include details like ownership, metadata, royalties, and any specific attributes or features relevant to your NFT project.
Minting and Token Standards: Determine the token standard to use for your NFTs. ERC-721 and ERC-1155 are common standards on Ethereum, while BEP-721 is used on Binance Smart Chain. Research the standards and choose the one that aligns with your requirements.
Intellectual Property and Licensing: Understand the legal implications and intellectual property rights associated with the assets you tokenize. Ensure that you have the necessary permissions or licenses from artists or creators, and establish guidelines for the usage and ownership of the NFTs.
User Experience and Marketplace Integration: Consider the user experience and how your NFTs will be accessed, bought, sold, and displayed. Determine if you want to integrate with existing NFT marketplaces or create your own marketplace.
Security and Scalability: Implement robust security measures to protect the NFTs and user data. Consider scalability as your project grows to handle increased transaction volumes and user activity.
Community and Marketing: Build a strong community around your NFT token development project. Engage with potential users, artists, collectors, and enthusiasts through social media, events, and partnerships. Develop a marketing strategy to promote and showcase your NFTs effectively.
By considering these points, you can lay a solid foundation while you create your NFT project and increase your chances of success in the ever-evolving NFT space.
Conclusion
Investing in NFT development services can be an innovative and exciting way to participate in the world of blockchain technology and potentially earn some serious cash. By following the steps outlined in this guide, you can create your very own NFT and put it up for sale on various online marketplaces. Remember to choose the right platform, create high-quality artwork, and market your NFT effectively. With a little bit of luck and hard work, you could be the next NFT millionaire!
On the hunt for a professional NFT development firm? Antier can be your digital partner to kickstart your NFT journey and help you create your own NFTs flawlessly. As a leading NFT development company, we have a strong portfolio catering to diverse global markets.