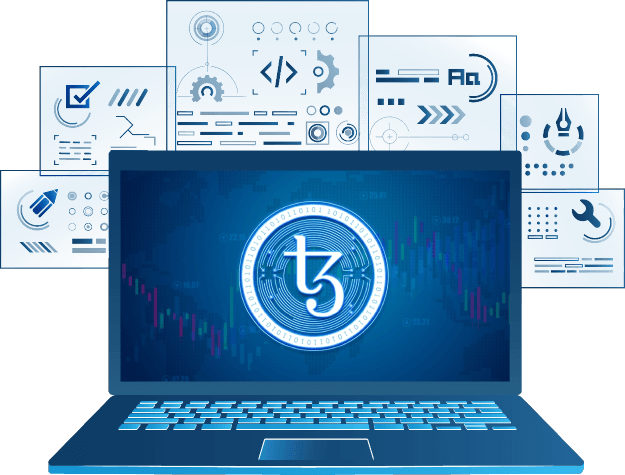 Meticulously Designed Tezos dApp Development Solutions
Tezos is gaining rapid adoption and growth due to its remarkable features like greater efficiency, high level security, and seamless scalability. If you are planning to tap into the Tezos market by launching your own application, we can facilitate your entry and participation in the market.
Our team of blockchain developers has extensive experience in creating blockchain applications on various platforms, making them experts in the development and deployment of Tezos dApps. They possess the skills to rapidly identify both on-chain and off-chain entities, develop microservices, establish Tezos nodes, create Tezos wallets, and seamlessly integrate Tezos APIs into your current solution or application.
Our Tezos Blockchain Development Services
We provide a full spectrum of services to transform your business use case into a powerful product that disrupts the market.
Connect with our subject matter experts to discuss your business use case.
Reasons to Choose Tezos for dApp Development
The following features make Tezos an ideal choice to build decentralized applications.
Why Choose us for Tezos Blockchain Development?
By partnering with Antier, you can rely on a team of technical experts with real-world experience delivering end-to-end blockchain services.
Frequently Asked Questions
1What is on-chain governance in Tezos?
On-chain governance in Tezos allows all stakeholders to participate in the decision-making process for protocol upgrades, providing a transparent and democratic approach to governance.
2How does Tezos ensure security in smart contract development?
Tezos employs formal verification, which is a mathematical proof technique used to ensure the correctness of smart contracts and other programs on the network. This enhances security and reduces the likelihood of bugs and vulnerabilities.
3What programming language is used for Tezos smart contract development?
Tezos smart contracts are coded using the Michelson programming language, which is a stack-based language specifically designed for the Tezos blockchain network.
4Can I develop my own custom Tezos wallet?
Yes, with the help of a Tezos blockchain development team, you can develop a custom Tezos wallet that caters to your specific business needs.
5Is Tezos suitable for developing decentralized exchanges (DEX)?
Yes, Tezos is suitable for developing DEX applications due to its inherent support for decentralized exchange. Tezos blockchain developers can build robust and scalable DEX applications on the network.
6What tools and technologies are used in Tezos blockchain development?
Tezos blockchain development employs a range of tools and technologies, including Tezos APIs, SDKs, and tools such as Taquito, Conseil, Morley, TezosKit, PyTezos, and TezosJ. Other programming languages and development tools may also be used, depending on the specific requirements of the project.
October 3, 2023
The decentralized finance (DeFi) landscape has witnessed explosive growth in recent years, and one of the key pillars driving this revolution is […]
October 3, 2023
In the ever-evolving landscape of blockchain technology, selecting the right Blockchain development services provider is a critical decision for businesses seeking to […]
October 3, 2023
The real estate sector is often based on the legacy data management system and is vulnerable to fraud. It involves lengthy processes, […]