Table of Contents:
The fascinating convergence of digital assets and physical commodities as we enter a realm where gold meets the world of cryptocurrencies. The gold-backed cryptocurrency combines the stability and intrinsic value of gold and harmonizes with the transparency and decentralization of blockchain technology.
"In the year 2023, the market for gold-backed cryptocurrencies has witnessed remarkable growth, captivating both stability-seeking investors and cryptocurrency enthusiasts eager to tap into the immense $12 trillion gold market."
This article reveals the finest gold-backed cryptocurrencies that have emerged as top contenders in recent years. Brace yourself for the limitless potential of the digital realm.
Let's get started!
What is Gold-Backed Cryptocurrency?
Gold-backed cryptocurrency is a digital currency that is backed by physical gold. It combines the advantages of cryptocurrencies with the stability of gold. Each unit of the cryptocurrency represents a specific amount of gold held in reserve. 
These digital assets can be traded on specialized exchanges, and some platforms even allow for the redemption of the cryptocurrency for physical gold. While the value of gold-backed cryptocurrencies can still fluctuate, they provide a means to access the value of gold without owning it physically.
Current Market Trend of Gold-Backed Cryptocurrency
"The total market capitalization of all gold-backed cryptocurrencies is around $2.5 billion."
In a significant development, the Russian government has officially confirmed that Brazil, Russia, India, China, and South Africa (BRICS nations) are coming together to introduce a new trading gold-backed cryptocurrency. This news is injecting fresh impetus into the ongoing trend of de-dollarization in the global economy. Since the middle of 2022, central banks worldwide have been rapidly acquiring gold to diversify their reserves away from the U.S. dollar.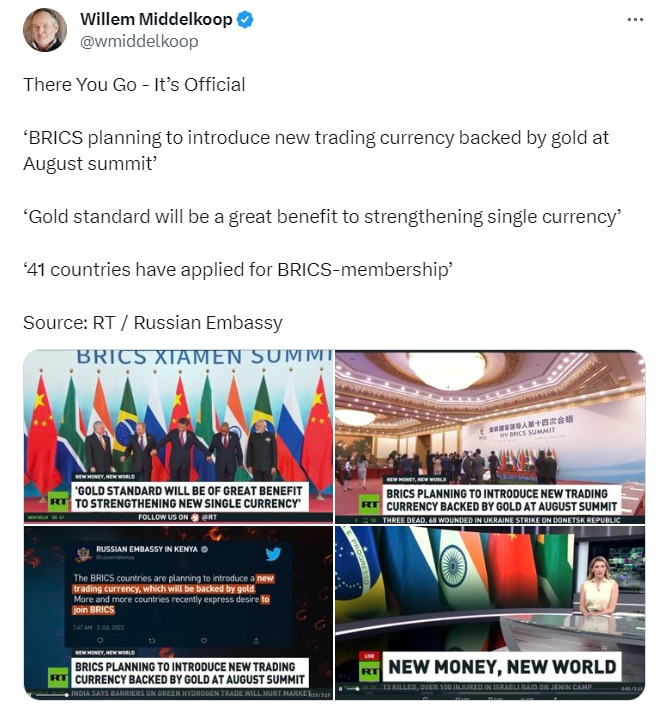 For numerous analysts, the introduction of a gold-backed cryptocurrency marks the next phase in this process. China's recent gold acquisitions are widely interpreted as an effort to enhance international credibility for the yuan. This move is expected to have far-reaching implications for the global financial landscape and may reshape the dynamics of international trade, currency markets, and gold-backed cryptocurrency development companies.

Learn About These Trending Gold-Backed Cryptocurrencies of 2023
Gold-backed cryptocurrencies are a relatively new asset class offering multiple potential benefits, and they are becoming increasingly popular among investors.
Presented below are some trending gold-backed cryptocurrencies in 2023:
Tether Gold (XAUT)
DigixGlobal (DGX)
PAX Gold (PAXG)
Gold Coin (GLC)
Perth Mint Gold Token (PMGT)
1. Tether Gold (XAUT)
XAUT is a gold-backed cryptocurrency that provides direct exposure to the price of physical gold, making it accessible for investors with limited funds. Token holders have ownership rights to specific gold bars, which can be verified through a dedicated website. XAUT is developed by the Tether team, aiming to apply the principles of their fiat-backed stablecoins to this gold-backed token. It is issued by TG Commodities Limited, a newly established entity for this purpose.
Features:

Users must complete the verification process to purchase the tokens, with transactions conducted in US dollars.
Each XAUt token represents one troy fine ounce of gold on a London Good Delivery bar.
XAUt tokens can be transferred between on-chain Tether wallets.
XAUt tokens exist as an ERC-20 token on Ethereum-based wallets and as a TRC20 token on the TRON blockchain.
Verified users with a minimum number of XAUt tokens can redeem them for physical gold, which can be delivered to any location in Switzerland.
Tokens can be redeemed for gold and then sold, with the resulting cash sent to the user after deducting fees.
2. DigixGlobal (DGX)
DigixGlobal offers a solution for investors with limited funds who want to invest in physical gold. By utilizing fractional tokens, users can easily transfer and redeem them according to their needs. With DGX, users can conveniently accumulate and manage gold holdings 24/7 with minimal restrictions. Additionally, DGX allows participation in Gold ETFs, and the tokens can be traded on cryptocurrency exchanges. The transparent buying process reduces the risk of fraud for users. It stores the physical gold backing the cryptocurrency in secure vaults.
Features:
DGX tokens can be bought using cryptocurrency.
Each token (DGX) represents 1 gram of gold and is backed by 100-gram Swiss gold bars from reputable refineries.
DGX operates on the Ethereum blockchain and can be stored on wallets such as Metamask and other Ethereum (ETH) wallets.
Recasting ensures that DGX tokens can be redeemed for their equivalent gold value, providing reassurance to token holders.
DGX tokens do not have a demurrage (storage) fee, while the storage fee for the associated ETF is 0.4% per annum. 
The tokens, ETF, and Gold Bar are subject to regulation.
3. Paxos Gold (PAXG)
Paxos Gold is a gold-backed cryptocurrency issued by Paxos, the company behind the Singapore-based cryptocurrency exchange itBit. This ERC-20 token provides users with easy access to high-quality gold from traditional markets. It allows for seamless ownership, transfer, storage, and speculation of gold without the limitations of large, cumbersome gold bars.
Additionally, Paxos Gold can be traded as futures on platforms like FTX, offering the opportunity to trade perpetual or quarterly futures contracts. Traders can purchase assets at predetermined prices for specified future dates.
Features:
Backed by one fine troy ounce of gold at a 1:1 ratio.
No custody fee is charged for the tokens.
Instant settlement for transactions.
Provides access to Major Gold ETFs, Gold Futures (COMEX), other gold tokens, and the ability to retail physical gold coins, bars, and other products.
A redemption option is available for converting tokens into physical gold.
Tradable on various exchanges including Kraken, itBit exchange, Alpha Bullion, Binance, and others.
4. Gold Coin(GLC)
Gold Coin is a peer-to-peer cryptocurrency that aims to promote decentralization and economic freedom. It offers fast transaction confirmations, outperforming many other cryptocurrencies with a mere two-minute confirmation speed. As an ERC-20 coin, it can be stored and sent using any Ethereum wallet. What sets this gold-backed token apart is its backing at a ratio of 1000 GoldCoin per ounce of gold, making it less volatile compared to Bitcoin and other altcoins not pegged to a stable asset. 
Features:
It offers enhanced divisibility, portability, and transferability.
The cryptocurrency can be redeemed for physical gold at any time, granting owners the option to convert it to their preferred fiat currency. 
The ratio is set at 1:1000 GoldCoin per ounce of gold.
The platform utilizes both on-chain and off-chain scaling methods to achieve scalability.
Gold Coin is mined using the proof of work algorithm, similar to Bitcoin.
The blockchain supports SegWit (Segregated Witness) and Lightning, enhancing transaction efficiency and scalability.
5. Perth Mint Gold Token (PMGT)
The Perth Mint Gold token is a digital representation of the GoldPass certificate, backed by physical gold at a 1:1 ratio. These gold-backed tokens can be exchanged for certificates or fiat currencies on digital asset exchanges. The physical gold is securely stored in the central bank of the Perth Mint. The token offers the advantages of easy transferability and divisibility, and it can be redeemed for physical gold or other fiat equivalents at any time. Additionally, the absence of transaction, storage, or management fees makes it a highly cost-effective and accessible gold-backed cryptocurrency.
Features:
The Perth Mint Gold Token represents ownership of physical gold stored in the central bank of the Perth Mint, backed at a 1:1 ratio.
The tokens can be easily transferred and traded on digital asset exchanges.
It can be divided into smaller units, allowing for precise transactions and flexibility.
Token holders have the option to redeem their tokens for physical gold or fiat equivalents, providing liquidity and versatility.
The token has no transaction, storage, or management fees, 
Partner With Gold Backed Cryptocurrency Development Company
Despite having a reputation for being one of the safer investments, owning physical gold isn't particularly easy. It can be held in the form of physical bullion and stored at home, or holders can pay a storage facility to hold them for a fee. The old-backed cryptocurrency make it significantly easier for individuals to own gold without ever needing to store it themselves. As a cheaper and more convenient alternative, these tokens have become the new dominant form of gold ownership for a global, decentralized base of people.

If you are interested in developing a gold-backed cryptocurrency, Antier is a great place to start. We are a leading blockchain development company that specializes in gold-backed cryptocurrency development. The company has a team of experienced developers and consultants who can help you with the initial ideation and design of your gold-backed cryptocurrency, as well as the development, auditing, marketing, and launch of your cryptocurrency. We use the latest security technologies to ensure that your cryptocurrency is secure and compliant with all relevant regulatory requirements. Consult the experts!
FAQs:

1. Are gold-backed cryptocurrencies redeemable for physical gold?
It depends on the specific exchange and cryptocurrency. Some cryptocurrency exchanges may offer the option to redeem digital tokens or coins for physical gold. At the same time, others may focus solely on trading and provide exposure to gold price movements without direct redemption.
2. Which cryptocurrencies have tangible asset backing?
There are several cryptocurrencies that are supported by tangible assets. Examples include Tether Gold, DigixGlobal, Paxos Gold, Goldcoin, Perth Mint Gold, and Meth Gold, all backed by gold. Additionally, we have cryptocurrencies backed by fiat currencies such as the US Dollar, including Tether, USD Coin, Dai, TrueUSD, Paxos Standard, Binance USD, Gemini Dollar, and Palladium Coin.
Furthermore, there are asset-backed cryptocurrencies that derive their value from reserves of silver or oil, such as the Petro (PTR) managed by the Venezuelan government.