The CoinMarketCap data suggests there are more than 297 cryptocurrency exchanges that support active trading currently. Interestingly, the 24-hour trading volume gap between the top and bottom-ranking exchanges is massive. This gap is because some exchanges are suitable for novice traders, some are better equipped to serve professional traders, and then there are others that just are not suitable for any kind of trader.
If one plans to build a cryptocurrency exchange, consider to buy white label crypto exchange software. But before that, make sure you have a sound understanding of all the five types of cryptocurrency exchanges and how do they serve their customers.
Five types of cryptocurrency exchanges
Centralized Exchanges (CEX)
Decentralized Exchanges (DEX)
Broker Exchanges
Instant Exchanges
Hybrid Exchanges
How are these exchanges different from each other?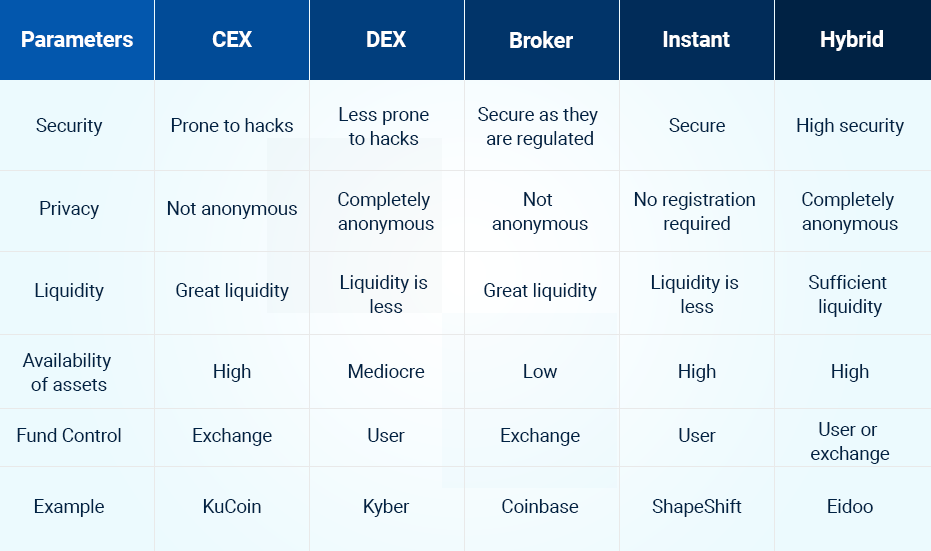 Centralized Exchange (CEX)
Centralized exchanges are basically the intermediaries that facilitate the process of crypto trading. These exchanges store users' funds, take the buy/sell orders and fulfill the same. For many new traders, centralized exchanges are the first point of entry as these exchanges offer deeper liquidities, more trading pairs, and intuitive interfaces. This is generally the first choice when an exchange operator has to buy white label crypto exchange.
 Pros
Centralized exchanges support high volume trades as they have higher liquidity.
To attract new users, the centralized exchanges try to stay on the right side of the law by implementing acts like AML and KYC.
Low trading fees
Cons
Users need to submit identification documents like Social Security Number (SSN). As the exchanges are susceptible to hacks, users' highly private data is at risk.
The centralized authority of the exchange controls the users' funds and this exposes their funds to hacks.
The exchange would have to share the user data, the transaction data, and more with the regulatory bodies. Thus, the user anonymity is compromised.
Decentralized Exchange (DEX)
In a centralized exchange, the users' funds are stored on the exchange and many times the exchanges have been hacked and users have lost their funds. A Decentralized exchange offers a remedy to this problem by supporting peer-to-peer trades. A decentralized exchange allows users to store their tokens just like they keep their private keys. As a result, the users' funds are completely secure. White label bitcoin exchange software simplifies the developer's job to build a DEX from scratch.
 Pros
They eliminate the middle man. As a result, the trading fee is reduced significantly.
Users are in complete control of their funds as the trades are executed in a peer-to-peer manner.
Decentralized exchanges support completely secure, private, anonymous, and transparent transactions.
These exchanges do not come under government oversight.
Cons
Decentralized exchanges are still in infancy, thus most of the DEXs offer clumsy user interfaces and this limits their usage to tech-savvy crypto traders.
Not suitable for new crypto traders.  
Both centralized and decentralized exchanges have their own shortcomings. Therefore, a Hybrid exchange brings the best of both types of exchanges to one. They bring the usability and liquidity from centralized platforms and combine it with the anonymity and security of decentralized exchanges. As a result, the users remain the custodians of their funds and still enjoy higher liquidity. They can trade their assets directly from their wallets as the trades are automatically conducted using smart contracts.
Pros
A Hybrid exchange puts all the users' funds in cold storage. Thus, it protects the users' funds against hacks.
Hybrid exchanges are less prone to hacks.
These are protected against DDOS attacks.
Cons:
The only limitation faced by Hybrid exchanges is that they do not enjoy as much trade volumes as the centralized exchanges. However, they do offer sufficient liquidity.
An instant cryptocurrency exchange is a place where a trader trades with the service. For example, on an exchange like Shapeshift, a trade is not executed between two traders but between the service and the trader. However, to support instant trades, the exchange must have a large pool of cryptocurrencies.
Pros:
A trade order does not need to be fulfilled for the trade to execute. It is fast and instant so the traders do not even need to wait for withdrawals.
As the exchange does not hold the funds, the funds are always secure.
Such exchanges offer a wide variety of coins and tokens.
Traders can trade without any registration.
Cons:
The user is charged miner's fees for every transaction. Along with that, the instant exchanges also have higher transaction fees.
Liquidity pools are comparatively smaller.
Not all the trading pairs may be supported.
 
An exchange that is centralized and is fully compliant with the regional regulations is known as a crypto broker exchange. As these exchanges are compliant, traders are ensured that their funds are always safe.
Pros
These exchanges offer a user-friendly interface so that the new traders do not have a steep learning curve.
Cons:
These exchanges share their cons with centralized exchanges.
These exchanges share the user's information with the regulatory bodies.
The usage terms might be different across different geographies because of the different compliance needs. 
Determine your business requirements and objectives while deciding upon the type of crypto exchange that you want to build.
At Antier Solutions, we can guide you on the right type of crypto exchange as per your business vision. Additionally, we offer customized crypto exchange development solutions. Whether you want to buy white label crypto exchange software or build a custom exchange from the ground up, our mission-driven solutions successfully cater to your needs.
Schedule a free demo of our white label crypto exchange software or connect with our subject matter experts to share your needs.