Stablecoins have emerged as a significant innovation in the world of crypto, providing a bridge between traditional finance and the rapidly evolving blockchain ecosystem. However, one intriguing phenomenon that has gained significant traction is the concept of fiat-collateralized stablecoins. These digital assets, backed by traditional currencies like the US Dollar or Euro, bridge the gap between the stability of fiat money and the efficiency of cryptocurrencies.
Whether it's facilitating cross-border transactions, minimizing volatility in trading, or enabling decentralized finance (DeFi) applications, fiat-collateralized stablecoins have carved a niche for themselves. Scroll down to navigate yourself better on how to build a stablecoin by following easy steps.  And to keep you abreast of the latest trends, a curated list of the most noteworthy and trending stablecoins is also jotted down, here. 
The current market trend of Fiat-Collateralized Stablecoins
The current market trend of fiat-collateralized stablecoins is positive. The market capitalization of fiat-collateralized stablecoins has been growing steadily in recent years, and this trend is expected to continue in the coming years.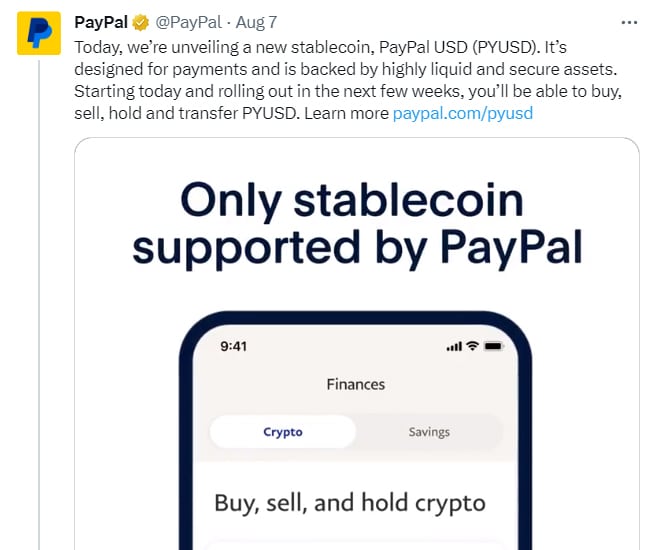 The acceptance of fiat-collateralized stablecoin development solutions by businesses and institutions has also grown in recent years. For example, PayPal, Visa, and Mastercard have all announced plans to support USDT payments. Not only this but also its usage in DeFi applications has grown significantly in recent years. Overall, fiat-collateralized stablecoins are a good option for traders and investors who want to avoid the volatility of the cryptocurrency market.
What are Fiat-collateralized stablecoins?
Stablecoins are commonly classified into four distinct categories: fiat-backed, commodity-backed, cryptocurrency-backed, and algorithmic stablecoins. Among these categories, the "fiat-collateralized" stablecoins are the most popular.
Fiat-collateralized stablecoins are cryptocurrencies pegged to traditional fiat currencies like USD or EUR. Each stablecoin is backed by a reserve of the corresponding fiat currency, ensuring a stable 1:1 value ratio. Users can acquire stablecoins by depositing fiat currency with issuers, and vice versa. Mechanisms maintain the peg and audits enhance transparency. They offer stability in crypto transactions, act as a bridge between traditional finance and digital assets, and find use in remittances and trading. 
Fiat Collateralized- How to build a stablecoin in a few simple steps?
Creating a fiat-collateralized stablecoin is usually a complex task that requires professional guidance. However, here is a step-by-step guide on how to build a stablecoin, a fiat-collateralized stablecoin in a few simple steps.
Follow these 8 simple steps to develop fiat-collateralized stablecoins

Step 1: Conceptualization and Planning
Decide on the fiat currency you want to peg the stablecoin to (e.g., USD).
Determine the initial collateralization ratio (e.g., 1:1) and minimum reserve requirements.
Choose a blockchain platform (e.g., Ethereum) for your stablecoin.
Step 2: Smart Contract Development
Develop a smart contract that handles stablecoin issuance, redemption, and collateral management.
Code functions for minting stablecoins when users deposit fiat and burning stablecoins during redemption.
Step 3: Collateral Reserve
Establish a secure bank account to hold the fiat collateral.
Implement regular auditing of the reserve to ensure it matches the stablecoins in circulation.
Step 4: User Interface
Create user-friendly interfaces for users to deposit fiat and receive stablecoins.
Develop a mechanism for users to redeem stablecoins for the equivalent fiat.
Step 5: Stability Mechanisms
Set up rules in the smart contract to adjust stablecoin supply based on demand to maintain the peg.
Determine triggers for increasing or decreasing the stablecoin supply.
Step 6: Security Measures
Implement strong security practices to safeguard smart contracts, user data, and fiat collateral.
Conduct security audits to identify and address vulnerabilities.
Step 7: Testing and Auditing
Thoroughly test the smart contract and user interfaces in a controlled environment.
Engage third-party auditing services to review the code and security measures.
Step 8: Launch and Marketing
Deploy the stablecoin on the chosen blockchain.
Market the stablecoin to potential users, emphasizing its stability and use cases.
Creating a stablecoin involves technical complexities, legal considerations, security concerns, and ongoing operational management. However, you will need to collaborate with a renowned and well-established stablecoin development company that houses professional experts who can navigate you better in designing a successful fiat-collateralized stablecoin.
Want to Create your Own Stablecoin?
Top 5 Real-world applications of fiat-collateralized stablecoins
Fiat-collateralized stablecoin development solutions are used for various purposes, including trading, remittances, and as a store of value. Their relatively stable value makes them useful for transferring funds without the price volatility associated with other cryptocurrencies.
Remittances- It provides a convenient and efficient way for individuals to send and receive cross-border payments without the risk of currency fluctuations. Workers can send funds back to their families in their home countries quickly and at lower costs.
Global Trade- Businesses engaged in international trade can benefit from hiring fiat-collateralized stablecoin development services. They can use these stablecoins for transactions, as the stable value helps mitigate exchange rate risks and simplifies settlement processes.
Cryptocurrency Trading- Traders often use fiat-collateralized stablecoins as a safe haven during times of high market volatility. They can quickly move in and out of positions using stablecoins to preserve value without needing to convert to fiat currencies.
Financial Inclusion- Fiat-collateralized stablecoins can provide access to financial services for individuals who are unbanked or underbanked, enabling them to save, transact, and access digital payment systems.
Smart Contracts and DeFi- The fiat-collateralized stablecoin development solutions are widely used as a base currency in decentralized finance (DeFi) platforms, enabling users to lend, borrow, and earn interest without the price volatility associated with other cryptocurrencies.
Popular Fiat-backed Stablecoins in the Crypto Market 2023
Fiat-collateralized stablecoin development solutions have garnered significant attention and are currently at the forefront of financial innovation. Let us check the trending stablecoins in the crypto market( 2023). 
Gemini Dollar (GUSD)
Gemini Dollar (GUSD) is provided by Gemini, a cryptocurrency exchange located in the United States. It stands as the inaugural regulated stablecoin on the Ethereum blockchain, utilizing the ERC20 standard. GUSD maintains an exact 1:1 correlation with the US Dollar (USD) and is supported by resources housed within State Street Bank.
Pax Dollar (USDP)
It is provided by Paxos, a cryptocurrency exchange headquartered in the United States. It functions as an ERC-20 token on the Ethereum blockchain. USDP maintains a direct 1:1 parity with the US Dollar (USD), making it pegged to the USD's value. This stablecoin is subject to auditing and regulation within the United States, and it holds collateral in USD. Moreover, it holds utility token capabilities.
Tether (USDT)
It holds the largest market capitalization among stablecoins backed by fiat currency, indicating its superior liquidity. Moreover, it finds usage across nearly all global cryptocurrency exchanges. Tether asserts that USDT's value is supported by assets within its reserve. The organization also releases a quarterly confirmation, disclosing the allocation percentages of its reserve across different asset classes.
USD Coin (USDC)
This stablecoin was introduced by the Centre Consortium, stands as another renowned fiat-collateralized stablecoin, and sees widespread adoption on multiple exchange platforms. Concerning its fiat reserves, USDC securely holds its reserves under the stewardship of prominent U.S. financial institutions. The stablecoin maintains transparency, empowering financial entities to manage their fiat holdings confidently. Furthermore, USDC mandates its partners to consistently report their U.S. dollar holdings.
Binance USD
Binance USD (BUSD) is a fiat-collateralized stablecoin that is issued by Binance and Paxos. It is one of the most popular stablecoins in the world, with a market capitalization of over $10 billion. BUSD is backed by 100% cash and cash equivalents, which are held in trust by Paxos. This makes BUSD one of the most transparent and secure stablecoins on the market.
If you are planning to build any trending fiat-collateralized stablecoins like the ones mentioned above, then you need to hire professional stablecoin development services from a premium company. The companies comprise talented and experienced blockchain subject matter experts who are well-versed in crafting the best stablecoins.
Partner with Antier: Navigate yourself on how to build a stablecoin
With secure backing and real-world applications, the fiat-collateralized stablecoin development solutions promise a transformative impact on global transactions, DeFi, and beyond. The future of finance has arrived.
Whether it be fiat-collateralized, crypto-backed, or asset-backed stablecoin, Antier emerges as the supreme stablecoin development company. With our profound expertise in blockchain technology and smart contract development, we will help you develop the most trending, robust, scalable, and secure stablecoins. We have a proven track record of delivering innovative and secure solutions that empower you to harness the potential of stablecoins for seamless cross-border transactions, enhanced liquidity, and diversified financial services. Embark confidently on the journey of developing the best fiat-collateralized stablecoins!