Cryptocurrency Exchange Development - A Billion-Dollar Opportunity
Cryptocurrencies are no more a millennial man's business but innovation on the verge of entering the mainstream. Even in the most challenging market conditions, its potential has made people believe that it is here to stay.
Coined after the colossal financial crisis to return financial power to people, cryptocurrency today is all set to build an incredibly secure, transparent, convenient, fast, decentralized, and immutable financial paradigm. With its extensive capabilities, it has proven itself as an ideal investment option as well as a transaction mode.
Owing to its benefits, the demand for cryptocurrency and therefore the crypto exchange software has been increasing rapidly. If you are a startup, evolving SME, or an established organization interested in benefitting from the changing face of finance, set up your golden goose with the help of a crypto exchange development company.
Build High-ROI Generating Cryptocurrency Exchange Software
As the crypto adoption continues to snowball, it is evident that a large number of businesses will jump on the bandwagon. In order to face the fierce competition, it is not only imperative to launch crypto exchange software with market-leading features but to come up with it as soon as possible.
White Label Crypto Exchange Development can help businesses gain an edge over the competition. The full-stack crypto trading software solution has a customizable front-end and ready-to-deploy backend which helps businesses launch into the industry in a time-effective and inexpensive manner.
At Antier Solutions, we extend our excellence in on-demand cryptocurrency exchange development services. We also offer a white label crypto trading platform to enable businesses to start a crypto exchange with industry-leading features, impenetrable security, and a completely tailored user interface as per branding requirements.
Fast track your crypto exchange development with Antier's secure, scalable and 100% customizable white label cryptocurrency exchange script built on a robust foundation for world-class performance.
Key Features of White Label Exchange Software
Our white label exchange is underpinned with industry-leading features that include, but are not limited to
An Insight into Our White Label Crypto Exchange Software
Development Solution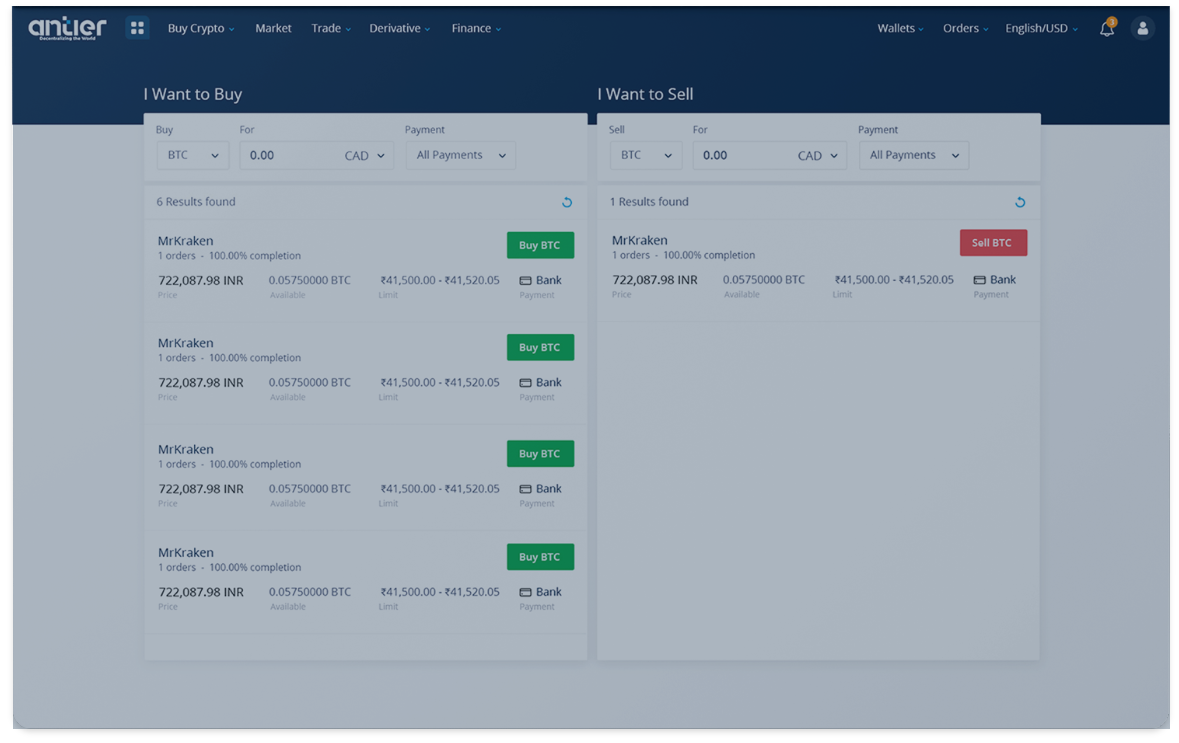 Security Features Of White Label Crypto Currency Exchange Script
At Antier, we build institutional-grade security mechanisms for your crypto exchange with security features that
comprise:
Prime Modules Of Our Exchange Software Development Solution
Our fully-featured, highly extensile, scalable, and dependable white label bitcoin exchange solution includes the
following key modules:
Client App Dashboard
User-authentication and authorization
In-Built Electronic Wallets
Detailed and Convenient Cryptocurrency
Charts
Cryptocurrency trading Engine
Admin Panel
Data Rich Dashboards
Real-Time View of Trades, Wallet and
Transactions
Transaction Details
Transaction History
User's Details
Payment Order Dashboard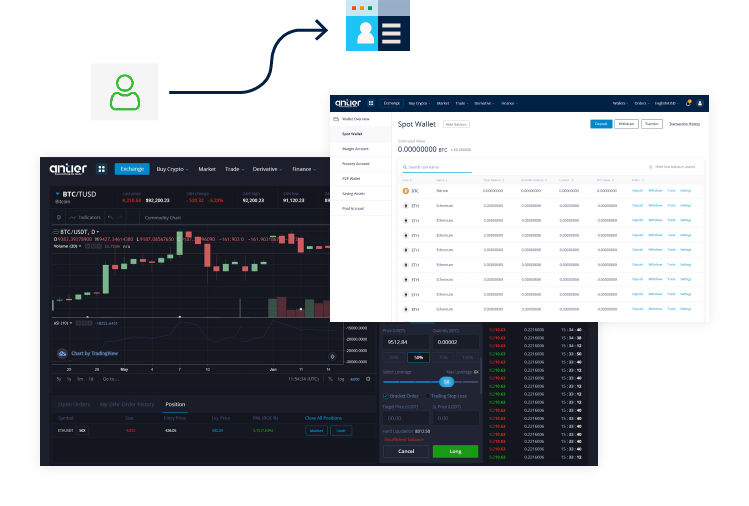 Order Book
List Of Open Orders
Order history
List of Recent Orders
Pending Transactions (Waiting for Authorization)
Cryptocurrency Balance
Bid Table and Ask Table Overview
Business Benefits of Choosing Our White Label Exchange Software Script
Here're the benefits of choosing turnkey crypto exchange solutions from the best Cryptocurrency Exchange Software
Development Company
Market-Ready
Highly Scalable Solution
Cost-Efficient
100% Customizable
Slashed Time-To-Market
Market As Your Own
Modular Yet Resilient Architecture
Rigorously Tested and Proven Platform
Adherence to High Quality & Security Standards
Cryptocurrency Exchange Platform Development Services
Enabling You Emulate the Success-stories With Cryptocurrency Exchange Clone Script
We offer smart crypto exchange clone solutions to let the new ventures kick in with highly functional crypto exchange businesses using rapid development solutions. Our cryptocurrency trading script can assist businesses:
Attain a robust brand reputation.
Launch cryptocurrency exchange software within a low budget.
Slash time-to-market.
Deploy a highly-compatible, feature-fortified crypto exchange instantly.
Leverage our ready-to-deploy cryptocurrency trading script solutions to gain assured success in the crypto market by setting up an exchange platform like Binance, Coinbase, Paxful, WazirX, PancakeSwap, MDEX, or any other.
Why Choose Our Crypto Exchange Development Services?
Frequently Asked Questions
1How to Launch Your Cryptocurrency Exchange Software?
You can either build your cryptocurrency exchange from the ground up or use a turnkey solution such as a white label crypto exchange or cryptocurrency exchange script. With the help of a reliable cryptocurrency exchange development company, you can build and launch your crypto exchange software.
2What is White Label Crypto Exchange Software?
A white label crypto exchange software is a ready-to-deploy package that lets you run, configure and launch a fully functional crypto trading platform. It is suitable for forex trading companies and existing crypto exchanges who wish to roll out a crypto exchange underpinned with market-leading features and advanced capabilities.
3Is it possible to launch your cryptocurrency exchange within 4 weeks?
Yes, it is possible to launch your crypto exchange software within just 4 weeks. You would need to shake hands with a reliable cryptocurrency exchange software development company that offers a white label cryptocurrency exchange with a robust matching engine, user-friendly interface, power-packed APIs, institutional-grade wallet, and diversified payment options.
4How much does it cost to build a cryptocurrency exchange software?
It depends upon your choice of cryptocurrency exchange development methods. Developing a cryptocurrency exchange from scratch can be quite expensive. If you choose to go with white label crypto exchange development, the cost is significantly lower. However, any additional features, blockchain integration, or token development might increase the base price.
5How long does it take to build your cryptocurrency exchange software?
The time depends upon the complexity of the process you choose. Building a crypto exchange software from scratch might take relatively longer than customizing a white label crypto exchange as per your branding requirements. A reputable blockchain development company might give a more specified timeline as per your project requirements.
6What is Cryptocurrency Exchange Script?
A cryptocurrency exchange script is a pre-engineered package of codes that can clone a specified cryptocurrency trading platform in terms of its functionality and user interface. The ready-made solution can be leveraged to launch a cryptocurrency exchange software similar to prominent cryptocurrency exchanges existing in the market.
7Which company offers the best cryptocurrency exchange development services?
Antier offers signature cryptocurrency exchange development services as well as highly scalable, ready-made crypto exchange development solutions. Count on them for building high-end crypto trading platforms with industry-leading features, self-explanatory interface, and institutional-grade security protocols.
November 22, 2022
Today's banking industry is going through a crypto boom. Crypto Exchange Software is used to create cryptocurrencies. These virtual currencies are now used in practically every […]
November 21, 2022
The market for cryptocurrencies is developing quickly. This expansion is driven by the ongoing emergence of new developments and technologies, and the future of digital products […]
November 15, 2022
Traders are actively looking forward to execute sales, purchases, and exchanging of various categories of digital assets in the cryptocurrency market. Liquidity is a key component […]
Launch Your Cryptocurrency Exchange Today!
Please fill in the details below .