Cryptocurrencies have come up as a transformative force in the financial realm. It has the potential to revolutionize several segments in the years to come. Just like regular currency, these currencies need a safe space for storage and management provided by crypto wallets.
As the segment evolves, new and interesting improvements will be observed in the crypto wallet realm. This blog sheds light on trends and innovations in crypto wallet development that will change the face of the finance industry: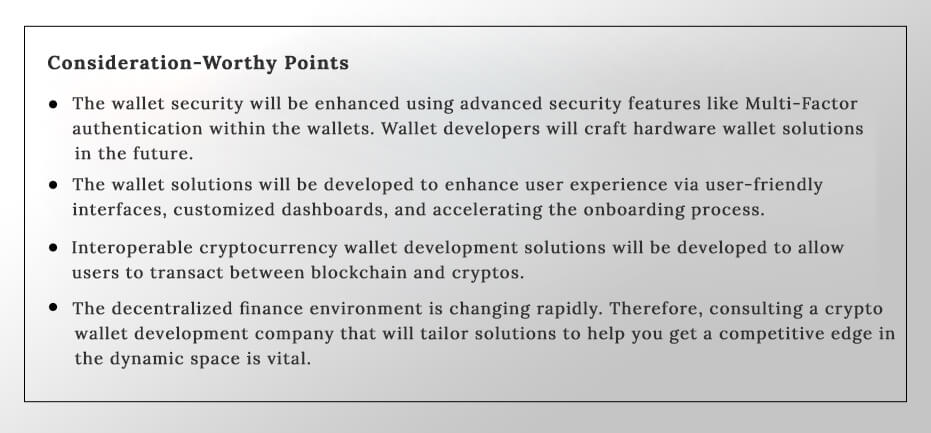 Crypto Wallet Trends & Innovations 2023
Let us shed light on crypto wallet trends and innovations that will be a game changer in 2023 : 
Enhanced Security for Complete Digital Asset Protection : Security has become a significant challenge among crypto wallet users. According to reports, Over $3 billion is lost annually to crypto hacks, with some estimates reaching $14 billion worldwide. This concern can be handled using robust security mechanisms discussed in detail as follows:
Multi-Factor Authentication : To ensure maximum security, crypto wallets are integrated with a Multi-Factor authentication that verifies users with methods like biometrics, one-time passwords, or hardware keys.
Hardware Wallets : One can improve wallet security by storing private keys offline in USB drives. This will make the devices smaller, simple to operate, and can be integrated with different cryptos seamlessly.
Autonomous self : Decentralization identification technologies like Self-Sovereign Identity(SSI) will help users have complete authority over their data. As a consequence, crypto transactions will be performed without sharing sensitive information.
User-friendly interface for an Exhilarating User Experience
The user interface keeps improving every now and then. They are predicted to become more pleasurable and approachable with intuitive and user-friendly interfaces.
Users can customize their wallet dashboards with useful details and functions. This personalization will make details useful and fulfill the needs of individuals with distinct tastes.
The platform will support interactions, open avenues to exchange prices and plans and share Bitcoins via chat platforms. This has been possible due to social elements integrated within the wallets. The social component will widen the crypto reach, thereby boosting community involvement.
Building an Open Blockchain Network to Support Interoperability
Every digital asset requires a different wallet & managing them becomes a daunting task for enterprises. Interoperability is an effective way to overcome this problem as it supports several cryptos and supports interaction with Blockchains via a single network. It is generally performed in the following ways:
Interchain Compatability : Interchain compatibility helps to transact across several cryptos without requiring numerous wallets or exchanges. The feature supports multiple blockchains, which simplifies the transaction process.
Atomic Swapping : Atomic swapping is free from middleman intervention and supports peer-to-peer trade between cryptos. Using the wallet's atomic swapping capabilities, one can even perform cross-chain swaps safely and quickly.
Develop your own Crypto Wallet
DeFi Integration
DeFi is a completely new system that offers an array of financial services. The segment offers enormous growth potential (CAGR 2023-2027)of 19.60% and will be at  US$34,700.00m by 2027. 
A non-custodial wallet is a crucial component of this ecosystem that establishes a connection between dApps and users. Also, it is a one-stop destination for accessing DeFi services. These solutions can be used to perform the following:
Get complete authority over data
Sending, receiving, and crypto exchanges
Keep keys & seed phrases at one location
Manage NFT portfolios
Access dApps via the crypto wallets
Obtain market and token information
User chat & diversify your crypto portfolio by being anonymous
Perform activities like lending, borrowing, staking, liquidity pools to boost revenue
dApp integration and seamless access.
The Rise in Mobile Payments
According to stats, there are 7.33 billion mobile wallet users, 91.04% of the world's population. With the increase in smartphone users, more investors and enterprises will develop their personalized mobile wallet apps to make payments and perform seamless crypto transfers.
How Much Does Crypto Wallet Development Cost?
The crypto wallet development cost depends on numerous factors like team size, app complexity, supported platforms, and other expenses. These aspects have been discussed in detail:
The cost is hugely impacted by development team Size. The location and expertise of crypto wallet development experts hugely impact rates.
The more features the wallet has, the more complicated it becomes and the higher its cost will be. Developing wallets with basic functionality will be economical compared to advanced feature wallets.
Platform support greatly affects the wallet development cost. Developing a single platform will be cheaper than developing a solution for multiple platforms.
Additional factors like regular maintenance, bug fixes, updates, and customer support impact cost. These are included in the estimate, or charges must be paid separately.
These are rough estimates and are greatly affected by the factors mentioned above. Share your requirements with crypto wallet development experts to get an exact cost estimate:
Discovering the Future Possibilities
Crypto wallet development will change the face of the crypto space. This will further transform the decentralized banking segment with improved security measures, user-friendly interfaces, and Interoperability, making it pragmatic and accessible for users. Individuals and firms trying to maximize their potential need to be educated about the significance of investing in advanced solutions to get a competitive advantage. The global Crypto Wallet market size was at USD 6127.2 million in 2021 and is expected to expand at a CAGR of 30.78% during the forecast, reaching USD 30659.33 million by 2027.
Geographic Segmentation: –
The Middle East and Africa
While heading towards the revolutionary path, we will gain complete control over our financial destiny and embrace the crypto wallet future in the years to come. So, gear up to see amazing cryptocurrency wallet development that will take the financial journey to new heights.
Achieving Crypto Wallet Development Success through Antier's Contribution
Antier is a reputed technology partner known for its involvement in the Blockchain and cryptocurrency segment. With a deep understanding of blockchain principles and a strong emphasis on security, they develop solutions prioritizing security and asset protection. They develop customizable solutions deployed on prominent blockchains like Bitcoin, Ethereum, Solana, Cardano, etc. Smart contracts, integration, intuitive interfaces, and agile development approach sets us apart from the race. Our round-the-clock support, updates, and meticulous testing enable optimum performance. Buy cryptocurrency wallet solutions, a perfect blend of quality and cost-effectiveness, by connecting with our subject matter experts today!