Do you want crypto banking to be as easy and effortless as ordering food online? The answer would be a YES! Artificial intelligence and blockchain may soon make it a reality. If you remember the times when there were bank branches that one had to visit for any sort of operation, but today you are just a click away with all the banking available in your hands, on your smartphone and the scenario is going to be more simplified with the intervention of AI in banking industry.
There is no doubt that every business holds an agenda to satisfy its customers with the best possible services and products, the same goes with the banking sector which is travelling a long way from physical banking to online banking to digital banking with the entry of artificial intelligence in crypto banking, just to match the needs and standards of its customers.
This article will focus on how the amalgamation of artificial intelligence in crypto banking is going to modify the operations and its benefits in detail. 
Without any delays, let's get started!
What is Artificial Intelligence?
As the name indicates Artificial intelligence (AI)─ is the sort of intelligence shown by some machines. It is basically the ability of either the computer itself or a robot controlled by it to perform some task that is primarily done by humans for they need a touch of human intelligence and understanding in completion. To surprise, AI can even surpass human potential and capabilities to some extent though is trained by humans themselves. 
Simply putting more, AI is a kind of process to transform a computer into a clever robot that functions exactly the way a human being would in the same scenario. The things that AI can easily understand and act upon are─ the business scenario, real-time actions, details, and decision-making, and responds too accordingly.
Why Banking sector must embrace Artificial Intelligence?
Gone are the days, when customers had limited options and knowledge for which they used to rely on the same product or service and were scared of switching frequently, nowadays the situation is such that the whole world is under the influence of competition with multiple options and a variety of features available all around.
In such a competitive ecosystem, the whole setup of banking and financial services is also something that needs to improve and actually keep on updating with the changing times, if the bank or fintech wants to take the lead. One of the worthy decisions is to opt for AI, which is a trending and beneficial technology.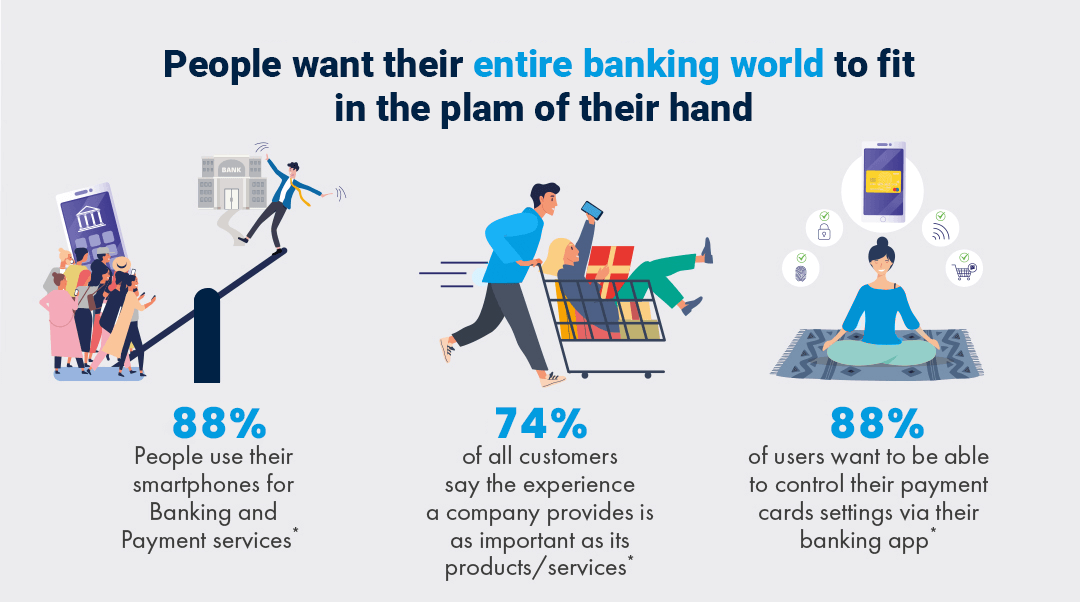 To put today's situation in words, in other industries customers are preferring Netflix and Spotify for entertainment, Amazon for retail, Airbnb for travel and so many more just for the reason of convenience in getting what they want and when. From a business perspective, these businesses offer hyper-personalized services for analyzing and predicting customer choices with the best solutions. This, therefore, clarifies that even the banking sector must focus on personalization in services to match people's needs and choices to sustain in the market.
What actions Crypto Banks must take to be AI-powered?
Banking is an age-old service but a crucial one that it can't vanish. However, for better sustainability banks need to get a blend of digital banking cryptocurrency and AI. For this, there are some preparatory steps that traditional as well as modern crypto banks need to take for a fruitful blend of AI in crypto banking :-
Leverage AI to render zero-effort services to please their customers
Push AI in the workforce to cust complexity in management
Train the employees to adapt AI and offer realistic expectations
Tap into the newer world of platform opportunities with scalable APIs
Study and focus on customer needs and preferences for better engagement
Be quick yet cautious for this next-gen implementation with a framework
How modern banks can use AI?
Chatbots :- 
Needless to mention AI-enabled ChatGPT platform has been in the talks recently and is dominating the market impacting many business verticals and is expected to do the same for crypto and digital banking. AI-powered chatbots can help a lot-
These can identify emotions in chat and respond accordingly
Reduce pressure on customer care
Solve real-time concerns aptly
Cuts expenses for banks
Track user's behavior and choices
Automated advice :- 
Though it is considered unreliable, AI-powered advice is quite helpful as it analyzes the previously entered data and figures to have a better understanding of your financial status in order to provide a piece of suitable advice.
Predictive Analytics :- 
AI is capable of detecting any sort of data pattern among the humungous volume available in the memory to predict the positives and negatives which possibly a human mind might not be able to. With this, the pattern understanding, finances can either be invested somewhere for great profits or could even save from some suspicious loss.
Advanced security :- 
Ai holds a good memory status so is a great option to keep a check on repeated threats or issues that occurred in the past to provide future-proof planning and management. This can even help banks or other financial institutions to keep a check on and to identify fraud and in the detection of anti-money laundering activities.
Wrapping Up
The ongoing trend might force you to think that AI is going to be the future which actually is not wrong as we all can foresee an AI-driven world, but humans still would hold the power in their hands. No doubt, blockchain, and AI are transforming the way businesses used to work but the blend is making operations smooth and easy.
Planning to grasp Ai-powered banking and financial services is a powerful thought as of now and seems to be a long-term benefit for every sector. Antier is a reliable name for blockchain-based cutting-edge solutions and is prepared with next-gen AI technology to get your hands on AI in crypto banking with robust features and functionalities with an effort towards the personalized touch.
What are you thinking about? Get in touch and start today!