Table of Contents
NFTs have emerged as valuable long-term assets, captivating the world with their unprecedented market growth in 2022 and 2023. As investors interest surges, NFT marketplaces have become a lucrative opportunity for owners, resulting in substantial profits. Topping the charts, NFT development has now become an essential business concept for entrepreneurs, prompting them to invest in NFT marketplace development as well.
Among the plethora of blockchain platforms available, Binance Smart Chain has caught the attention of entrepreneurs due to its cost-efficient gas fees, cross-chain interoperability, and swift transaction speeds. In this article, we will delve into the idea and execution of the Binance Smart Chain development and its emergence as a noteworthy ecosystem for NFT development.
Understanding of Binance Smart Chain(BSC)
Binance Smart Chain was launched by Binance -one of the world's leading cryptocurrency exchanges, in September 2020. It serves as a parallel blockchain to Binance Chain. BSC is compatible with Ethereum Virtual Machine(EVM), which implies that developers can seamlessly port their Ethereum-powered projects to BSC with minimal modifications. It combines the advantages of both centralized and decentralized systems, offering high performance, low fees, and compatibility.
Why is BSC Non-Fungible Token Development a preferred choice?
When it comes to NFT development, every business looks for a scalable and pocket friendly blockchain where BSC comes among the topmost choices. With such attractive traits, BSC Non-Fungible Token development offers several compelling reasons. Let us have a look at the major key factors that make Binance Smart Chain a preferred choice for NFT development:
Key Factors:


Binance Smart Chain benefits from the security measures and has a robust consensus mechanism which is why it is subject to regular security audits to ensure the integrity and safety of the network. This level of security and reliability is essential for NFT development, wherein the ownership and origin of digital assets are of supreme importance.
Binance Smart Chain benefits from being a part of the larger Binance ecosystem, which includes Binance Exchange, Binance DEX, and various other services. This integration provides access to a vast user base, liquidity pools, and decentralized exchanges, facilitating the seamless trading and exchange of NFTs. The presence of a thriving ecosystem helps in attracting more developers, artists, and collectors, fostering a vibrant community for NFT development.
One of the major advantages of BSC is its significantly lower transaction fees compared to other blockchain platforms like Ethereum. Binance Smart Chain development achieves this by utilizing a Proof of Stake Authority (PoSA) consensus mechanism. It minimizes the transaction cost processing. Lower fees make it more cost-effective for creators, collectors, and traders to engage in NFT-related activities. This makes NFTs more accessible to a wider audience too.
BSC provides high scalability and faster transaction speed as compared to other blockchain platforms. Its architecture and consensus mechanism allow quick block confirmations, enabling a smooth and efficient NFT trading experience. This is crucial for NFTs, where rapid transaction processing is important for the accommodation of the high demand and volume of transactions.
BSC is designed to be compatible with the Ethereum ecosystem. It uses the same programming languages (Solidity and Vyper), development tools, and smart contract standards (BEP-20 and BEP-721) as Ethereum. The compatibility feature allows developers to seamlessly port their existing Ethereum-based NFT projects to BSC. Therefore, it expands its reach and leverages the benefits of the ecosystem of Binance Smart Chain development without significant modifications.
Developer-Friendly Environment
BSC offers a developer-friendly environment with extensive documentation, tutorials, and resources. Developers familiar with Ethereum can easily move to BSC and leverage their existing knowledge and skills to create NFT projects. Binance Smart Chain's tooling infrastructure provides a streamlined development experience just like BSC Studio which helps in accelerating the deployment of NFT projects.
What are the key aspects of BSC non-fungible token development?
Binance Smart Chain (BSC) is utilized for NFT development in several ways. Here are the important elements of BSC non-fungible token development: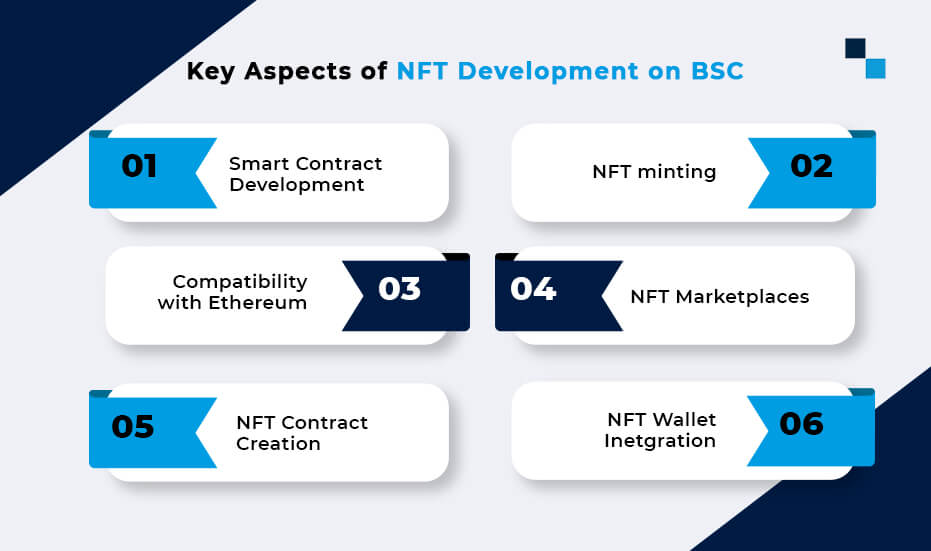 Smart Contract Development:
BSC is completely compatible with Ethereum's smart contract technology and supports the Ethereum Virtual Machine (EVM). This implies that programmers can develop smart contracts for NFTs on BSC. They can easily create or deploy smart contracts for NFTs by using well-known programming languages and by utilizing the tools and libraries that are already available for Ethereum.
Minting refers to the process of creating new NFTs and assigning them to addresses on the blockchain. On Binance Snart Chain, developers can utilize their NFT contracts to mint new tokens and can define the supply, attributes, and metadata associated with each NFT. Invoking particular operations within the smart contract and giving the necessary inputs are often crucial for minting during BSC non-fungible token development.
Compatibility with Ethereum:
BSC's compatibility with Ethereum provides opportunities for developers to leverage existing Ethereum-based NFT projects and migrate them to Binance Smart Chain. The compatibility feature enables the developers to tap into the larger Ethereum ecosystem while having an upper hand on BSC's scalability and lower transaction fees. They can also bridge NFTs between Ethereum and BSC, expanding the reach of their NFT projects and facilitating cross-chain interactions.
Binance Smart Chain hosts various NFT marketplaces where creators can present and sell their digital assets. Developers can enable the buying, selling, and trading of NFTs by integrating their NFT contracts with these marketplaces. Users can list their NFTs, set prices, and execute transactions securely and transparently by connecting the marketplace's user interface with the smart contract's functions.
On BSC, the developers can use smart contracts to develop exclusive NFT contracts. These agreements outline the characteristics and conduct of NFTs, including their special identification numbers, metadata, ownership details, and transferability policies. Additionally, the contracts incorporate the features required for creating, burning, and transferring NFTs.
BSC-compatible wallets play a crucial role in BSC Non-Fungible Token development. Developers can ensure that their NFT contracts are compatible with popular wallets like MetaMask and many others. This allows allowing users to view, manage, and interact with their NFTs seamlessly. Additionally, integrating wallet functionality within NFT applications enables users to connect their wallets, view their NFT balances, and initiate transactions directly from the application.
Notable Examples of NFT Development on BSC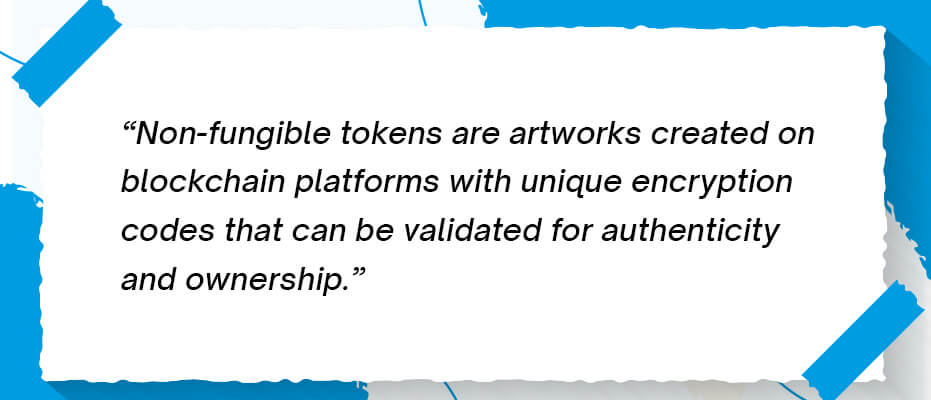 Binance Smart Chain has witnessed a surge in NFT development. It has attracted artists, collectors, and developers alike. Several platforms and projects have emerged that have facilitated BSC non-fungible development, NFT creation, trading, and exploration. Let's explore some notable examples:
Notable BSC non-fungible Token development projects:
A decentralized money market protocol on Binance Smart Chain has recently introduced Venus NFT. It is a platform for minting and trading NFTs. Venus NFT aims to bridge the gap between DeFi and NFTs, enabling users to utilize their NFTs as collateral for borrowing and lending.
BakerySwap is a decentralized automated market maker (AMM) and NFT platform built on BSC. It allows users to create, buy, and sell NFTs while providing liquidity and yield farming opportunities. BakerySwap's vibrant marketplace has attracted artists and collectors from various backgrounds.
PantherSwap is an automated liquidity protocol on BSC that has introduced Panther NFTs as part of its ecosystem. The users can earn and collect Panther NFTs by providing liquidity or participating in yield farming. These NFTs can have various benefits, such as earning additional rewards, accessing exclusive features, or participating in governance decisions.
GameFi is a growing sector that combines elements of gaming and decentralized finance. Various GameFi projects on BSC incorporate NFTs as in-game assets, allowing players to own, trade, and utilize unique digital items. These projects enable players to earn rewards, participate in competitive gaming, and engage with NFT-based economies within gaming ecosystems.
Antier's Assistance
BSC's impact on NFT development is undeniable. Binance Smart Chain has emerged as a dynamic ecosystem for NFT development, leveraging its scalability, low fees, and seamless integration. It has democratized access to NFTs, empowering creators, collectors, and businesses to participate in this exciting digital asset revolution.
Antier delivers exceptional services for Binance Smart Chain development. The company offers top-notch solutions that blend handpicked features with industry-leading traits to propel your business growth. We have dedicated developers who help clients unlock the potential of this exciting and rapidly evolving ecosystem. Leveraging Antier's expertise, technical capabilities, and industry networks contribute to the successful development and deployment of NFTs on the Binance Smart Chain. As your one-stop solution for NFT development, we build robust BSC solutions catered to your business requirements, ensuring impeccable delivery and utmost perfection.