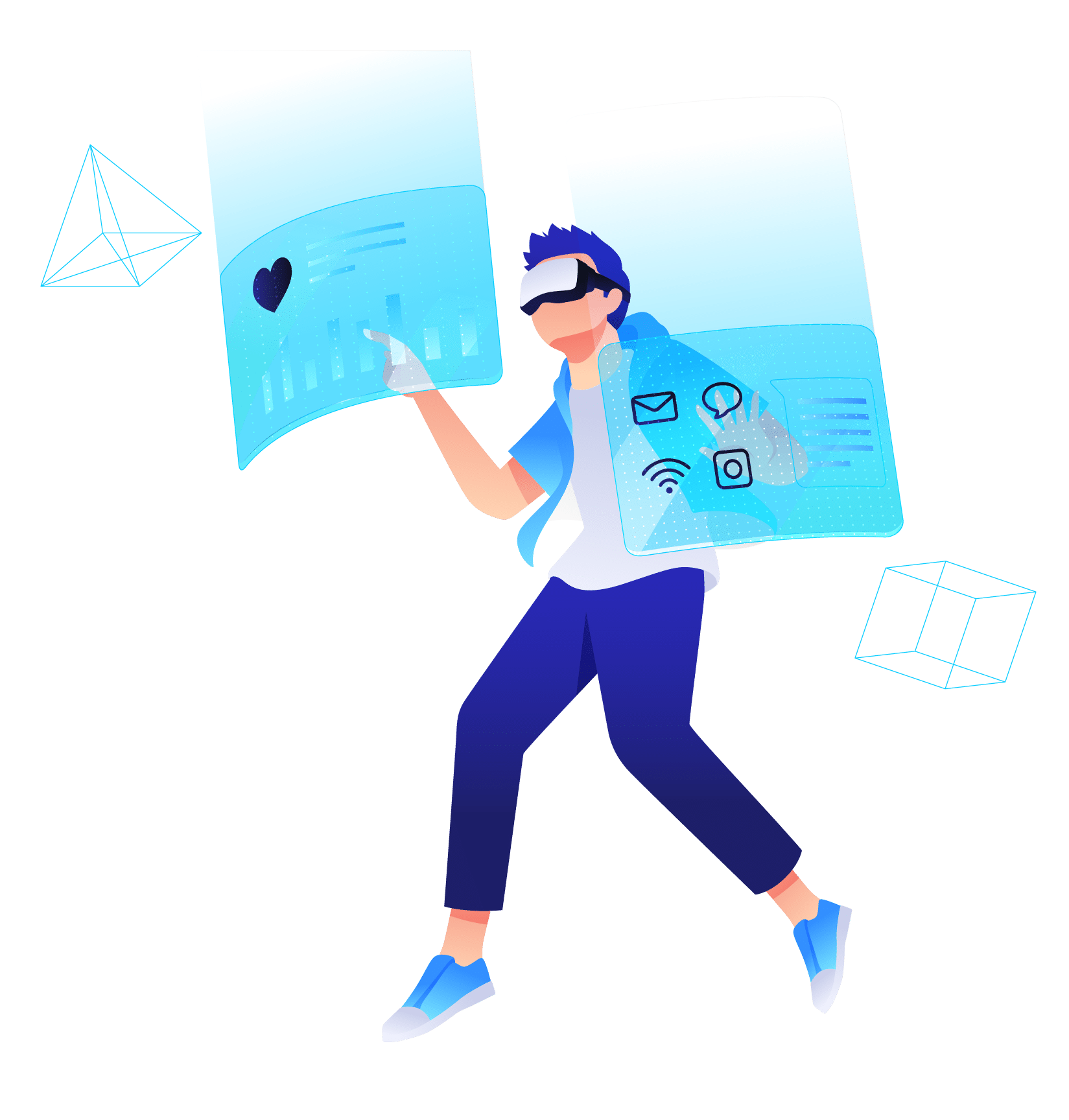 Metaverse development is becoming very popular these days. However, to develop a future-ready metaverse, you need to find a suitable solution provider who can understand and support the developmental and technical needs of your project. A solution provider giving metaverse development services can help you with metaverse NFT marketplaces, applications, 3D virtual places and decentralized platforms as well. Keep reading to learn about the top metaverse development companiesin 2023.
Top Metaverse Development Companies
Antier Solutions
Antier Solutions brings together a team of over 500+ metaverse skilled developers and designers to expedite the metaverse development journey for its clients. Antier is one of the leading metaverse development companies and can help you build sophisticated 3D virtual spaces, metaverse apps and metaverse NFT marketplaces. You can rely on a team of seasoned developers with real-world experience in working with different blockchain technologies. Antier can develop a metaverse that allows for seamless interaction between the real world and digital devices.

Unicsoft
Unicsoft has over 5 years of experience in the blockchain industry including metaverse software, AR and VR. The company claims to have the technical expertise needed for building platforms with feature-rich components of metaverse apps, NFY marketplaces, virtual spaces and decentralised platforms. The Unicsoft teams provide project maintenance and also resolve any compatibility issues that they face during the lifetime of a project. This metaverse development company boasts of reducing the time to market (TMM) by testing different hypotheses.
PixelPlex
PixelPlex is one of the best metaverse development companies and is headquartered in New York. Their expert team boasts of building metaverse platforms with feature-rich attributes and functionalities so users can get an immersive experience while browsing through the metaverse. The PixelPlex team has several experienced developers and designers who have worked with advanced technologies like AR, virtual reality, blockchain, NFTs and much more. This metaverse development company offers metaverse solutions to all types of businesses including emerging startups and large businesses.
Zensar Technologies

This is another metaverse development company that takes pride in streamlining, maintaining and re-engineering applications to create super-functional business units. The Zensar team does this by operating, managing and optimizing IT infrastructure to obtain the best possible business outcome. Advanced analytics, data science solutions and AI for code are their latest and biggest milestones in the digital business. Their aim is to build metaverse experiences that are fit for the future. Zensar has worked with several businesses in the banking, retail, insurance, finance and tech-manufacturing industries.
INORU
INORU is one of the most well-reputed metaverse development companies and has been successfully offering metaverse development services to businesses all across the globe. They boast of a team of highly skilled metaverse developers, designers and consultants who dispense full-stacked abilities that include ecosystem tools, APIs and other features that allow for an extraordinary and immersive user experience on their metaverse platforms. INORU has also made its reputation for being one of the best metaverse development companies when it comes to timely project delivery without compromising on the transparency and quality of the product and service.
Launch your metaverse project with Antier Solutions
Comprehensive development services to help you lead the future-ready Metaverse projects.
Sparx IT Solutions
This company has been providing sophisticated metaverse development services to companies for several years. Their portfolio includes several efficient, secure and revenue-based metaverse platforms. Sparx IT Solutions can help businesses create a fully-customized metaverse platform for a number of niches that comes with the latest features and functionalities. Their state-of-the-art metaverse solutions have made them a trusted partner for providing metaverse development services to businesses. Their aim is to build futuristic products that overhaul complex challenges.
SoluLab

SolyLab was founded back in 2014 and is now fairly involved with metaverse platform development services. They take pride in whipping up custom metaverse apps with a sophisticated technology stack. SoluLabs also provides its clients with diverse blockchain-specific services like dApp development, virtual space development, NFT metaverse marketplace and gaming metaverse. If you are looking to create a decentralised, commercial or gaming environment then SoluLabs has a lot to offer from their frontend/backend programming and blockchain services.

HyperLink InfoSystem
This metaverse development company has offices in UK, USA and UAE as well. HyperLink InfoSystem has helped several businesses develop decentralised platforms for socializing, treading and gaming as well. They have the expertise to help you integrate different data, APIs and ecosystem tools. This company has successfully built and delivered metaverse projects with an exceptional user experience. Their metaverse development solutions can help businesses create feature-rich and customizable metaverse platforms with the latest technologies that maximize your ROI.

SemiDot Infotech

SemiDot Infotech is one of the best metaverse development companies and offers full-cycle metaverse development services to big & small businesses and startups all across the globe. Their mission is to innovate the digital space for business growth by building simple and effective software solutions that address complex problems. SemiDot Infotech takes pride in providing top-notch metaverse platform and app development services by making use of the latest technologies available in the market today. Clients can choose from different hiring and engagement models to suit the needs of their business.

Suffescom Solutions
This company has been successfully providing advanced IT solutions and metaverse development services for more than a decade. They claim to have a team of experts who specialize in building metaverse apps and high-quality web3 by using technologies like augmented reality, virtual reality, blockchain, web3 and the metaverse itself. They also house a team of consultants with comprehensive knowledge about custom metaverse-based app technologies. Their team strives to develop designs and tech that outshines your online business from the gaming to the governance industry.
Talk to Our Experts
We are available for a friendly chat to discuss your business needs, no obligation.
Success in Progress, One Block at a Time.
6+
Years of Blockchain Experience